Some call it a "bag of beauty tricks", others might say, "this is my face in a beauty bag." Jokes aside, beauty is serious business. As a journalist, blogger, event host and consumer, I want my products to deliver and do what they claim they will. We all work hard these days and spending money on beauty products needs to be worth the purchase. Here are my true must haves for 2017 and current beauty favorites! Let's get glam: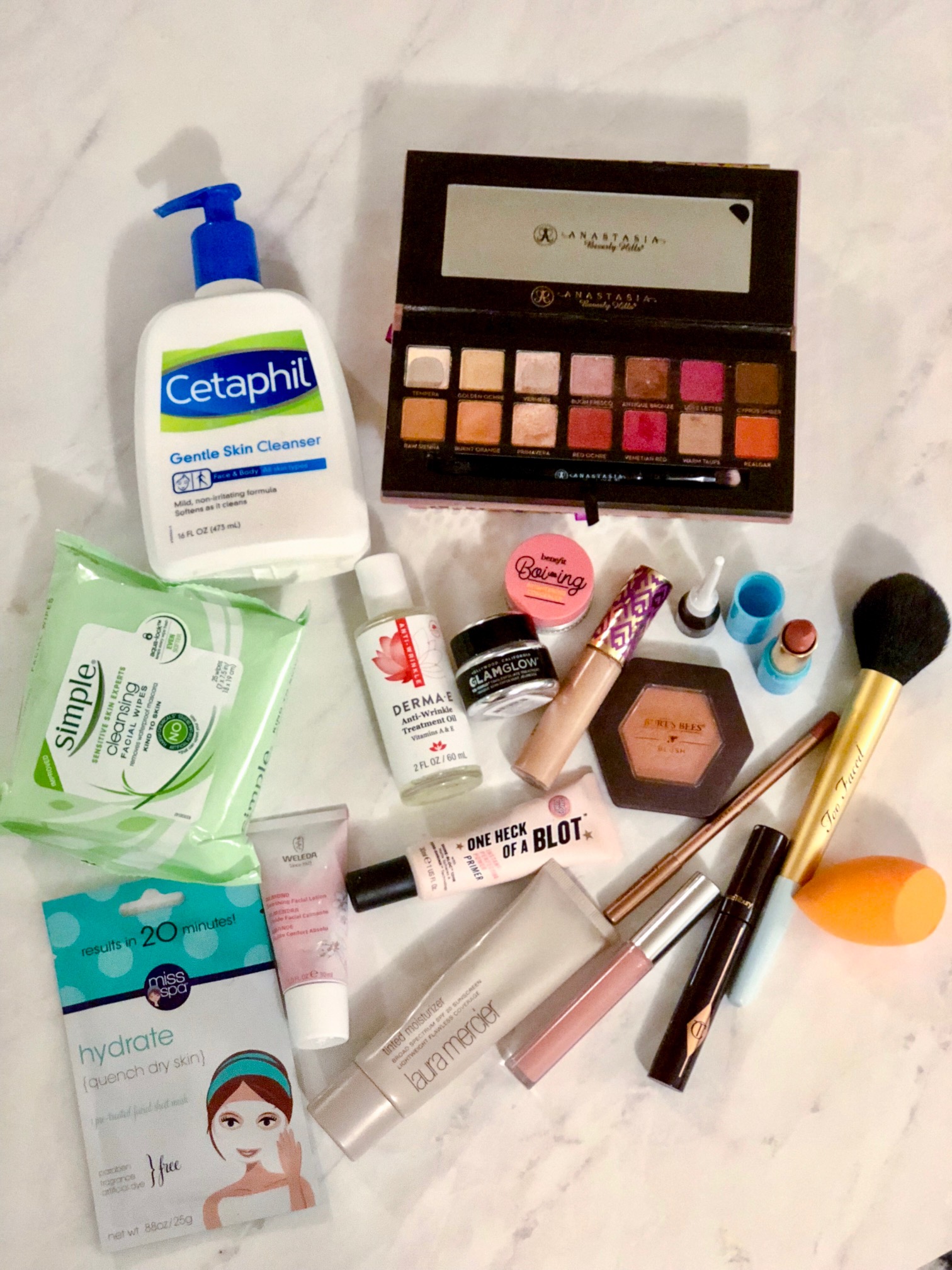 Face Wash/Cleanser: Clean, healthy skin is the basis for any look. Cetaphil is a gentle skin cleanser, that is scent free and doesn't strip my skin. This is one of my favorite face washes of all time.
Face Wipes: When it comes to face wipes, I really don't like heavily scented products. That is one of the many reasons Simple Wipes tops my list. They are gentle, they remove all of your makeup and are scent free.
Face Masks: Some at home pampering is always welcomed. The Hydrate Face Masks by Miss Spa tops my list. They are paraben free, fragrance free, and artificial dye free. After I use these my face looks refreshed and fine lines are softened. I love this mask. These can be found at your local Target — awesome.
Anti-Wrinkle Treatment: The Derma-E Anti Wrinkle Treatment Oil was a new discovery this year that I'm thankful for! With Vitamins A & E this good for you skin treat is sans chemicals and really make my skin supple. This also doesn't clog pores.
At Home Facial: The Glam Glow Youthmud is a great way to tighten and exfoliate the skin. I always see an improvement in firmness and overall smoothness of my skin after use.  Designed as a 10 minute facial in a jar, YOUTHMUD® provides gentle resurfacing exfoliation and helps to leave skin smoother, brighter, and softer resulting in immediate camera-ready glowing skin.
Moisturizer/Skin Cream: Weleda Almond Face Lotion has been an amazing discovery in 2017. This is a mainstay in my routine that I literally use every single day. When I start running low, I get nervous and buy more. I found mine at Whole Foods, but you can also get it online. This has little to no scent and makes your skin look supple and radiant. From their website: Weleda Almond Soothing Facial Lotion gently nourishes your sensitive skin and protects against moisture loss with rich, essential fatty acids. Plum kernel oil in our Almond Soothing Facial Lotion contains high quantities of antioxidants and vitamins A and E, which easily absorb to soothe and calm sensitive or reactive skin.
Facial Primer: Let's face it, a good skin makeup primer can be the difference between a fabulous makeup day and a just "ok" day. Soap and Glory's "One Heck of a Blot" (love the name) is one of the best primers I have ever used. I do use this after I have applied a good moisturizer… so be sure to include that step before you use this. This primer does not pill, smoothes out wrinkles, allows my makeup to go on flawlessly and is scent-free. A total beauty gem!
Tinted Moisturizer: The Laura Mercier Tinted Moisturizer gives a flawless finish to the skin. This has broad spectrum SPF 20 within it and really gives me a youthful look. Lightweight, moisturizing formula adds a soft hint of color that evens and enhances skin without hiding it. Use in place of foundation for an effortless, natural complexion with a fresh glow. Stay-true color; wears all day. This has made a huge difference in my appearance and is so easy to blend and use.
Under-eye Concealers: This is a two step process. For the dark circle color correction I used Benefit Boi-ing Brightening Concealer to counteract the darkness, this is creamy and doesn't settle in any under eye creases. Next step, is the Tarte Shape Tape concealer to smooth the area out and mesh with the rest of my face by using a slightly dampened Real Techniques Beauty Sponge. This combination delivers circle free results! My eyes look awake and rested.
Liquid Eyeliner: One of my favorite liquid eye-liners is by Almay and can be found at the drugstore and Ulta. I've actually started using the dark brown shade over black, this looks more seamless and less harsh. This glides on with ease and Almay eye products are always easy on the eyes. You can make a winged look or keep it more simple.
Mascara: Charlotte Tilbury is another brand I have truly enjoyed this past year. Full Fat Lashes by Charlotte Tilbury is easily one of my favorite mascaras. This delivers curl, separation, length and drama (the good kind). When I ran out of this, I went to buy a new one. I had to have this again and that's saying a lot. I have sensitive eyes and this also didn't bother my eyes. This is the key to gorgeous lashes. I did get this in black.
Blush: Another hot new discovery this year is by Burt's Bees. I have enjoyed their lip balms and lipsticks in the past. This past year they came out with a broad new beauty line! The Burt's Bees Blush in Toasted Cinnamon has been a beautiful and natural way to warm up my cheeks and complexion. The lightweight formula brings together Bamboo, Honey and Vitamin E to nourish skin for beautifully radiant results.
Lipstick: My favorite lipstick easily in 2017 is the Tarte Colorsplash lipstick line. With a wide variety of gorgeous shades, hydrating, made from great ingredients and non-scented. I just couldn't get enough of the shade called Sun-kissed which I wore all summer long. For fall, I have been using Salt Lyfe, but that's the beauty of the range — so many flattering shades. You must check them out!
Lip-gloss: Colour Pop Lip-gloss in Fairy Floss was my go-to gloss to wear over every lipstick and liquid lip. High shine gloss with just a hint of color in a moisturizing and non-sticky, comfortable formula.
Lip-liner: Charlotte Tilbury has some incredible lip liners. Pillow Talk is her iconic your lips but better shade that can be worn with every lipstick in your collection. Glides on your lips, long-lasting — a total dream lip liner.
Eyeshadow: Anastasia Beverly Hills Modern Renaissance Eye Shadow Palette almost blends itself! There is a reason why the craze caught on. This was my most used and most loved eye-shadow palette all year. The tones are gorgeous and this palette as you can see from the photo above was my total go-to! Paraben, Sulfate and Phthalates free.
Makeup brush: Owning a few key makeup brushes will make getting glam much easier. Mr. Right Perfect Powder Brush by Too Faced is a fave for sure. This is called the perfect powder brush for good reason. I literally use this for everything from Bronzer to Blush and setting powder. This brush is well worth the purchase. If you're new to Too Faced they also offer 20% off on their website. The gentle taper is perfect for sweeping along smaller crevices when setting undereye concealer or creating a precise contour.
What are some of your Beauty Finds?! Tweet @DanaPrigge or follow along on Instagram, I always enjoy connecting!