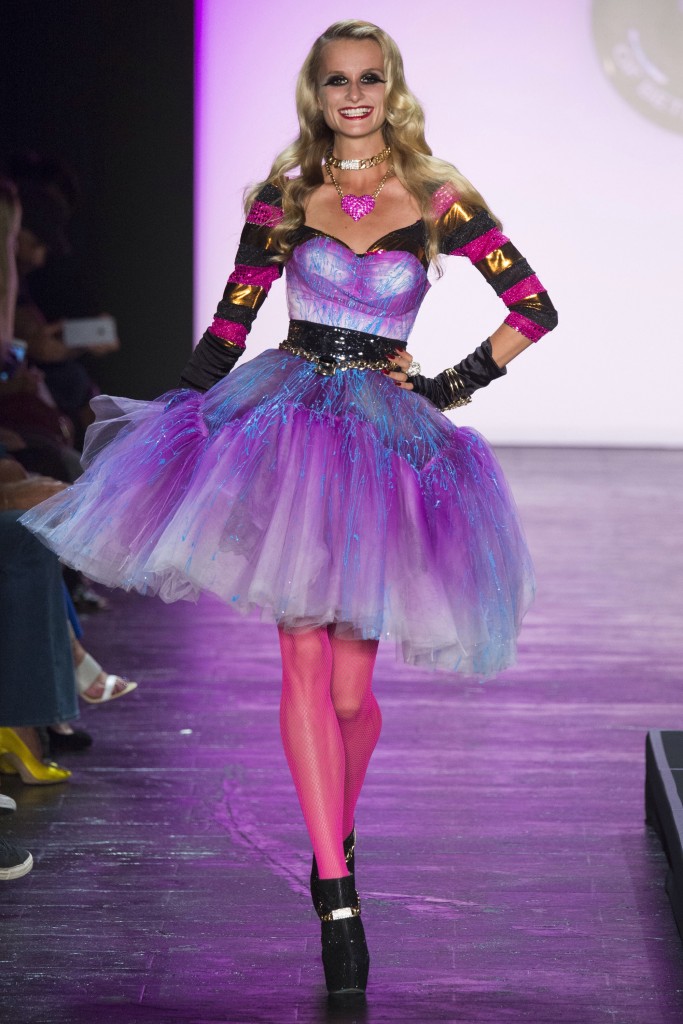 Whenever DailyFashionista.com has the opportunity to attend anything that involves designer Betsey Johnson, two things are for certain — you're going to have a great time and you will also be inspired. This seasons Spring/Summer 2016 Fashion Week Show definitely was a treat for the senses. With Betsey, it's always fun to be girly, sparkly and feel free!
Upon arrival #DF knew we were in for a real fashionable treat. When you're sitting nearby editors at Glamour and they are getting excited — you know it's going to be a great show. The invite/show program gave you the feeling that the show was going to be a bit of a throwback with a modern edge — a design aesthetic that Betsey is well-known for (but, there's always a fun twist). The show began with a modern look and tutu's were seen in different variations throughout the show. Betsey is a trained dancer and even had her dance instructor there, whom she dedicated the night to. The show featured designs that seemed influenced by various decades; dresses, jumpsuits, corsets, and stockings created with fruit and floral-esque prints. There were solids and stripes too in the more wearable pieces. The makeup looks were done in a few ways, some of the models had a rainbow eyeshadow look, while others wore a silver gun metal glitter look and winged eye-liner was a major trend.  If I could sum up the Fashion Show in one word, it would be; happy.
The show was also a celebration of her fifty years in the fashion industry and it was truly an honor to be there. Betsey finished the show with a standing ovation, her signature cart-wheel and the admiration of everyone in that room.