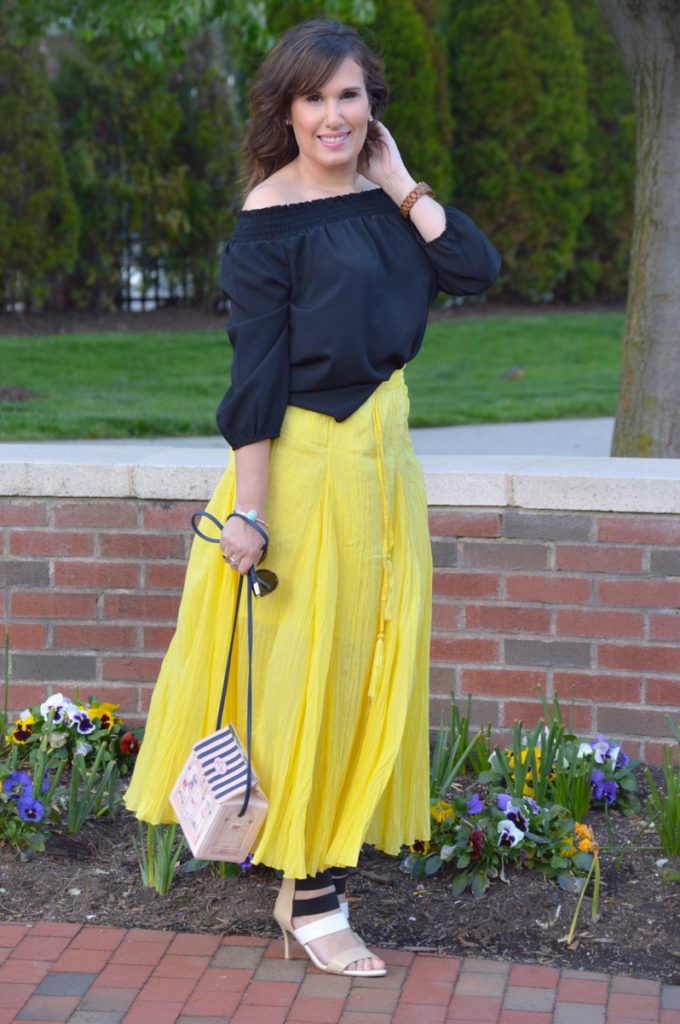 The weather is gorgeous today in the New York metropolitan area and it's the perfect day for a chic bohemian style ensemble. Rain pummeled the area, so as soon as the nicer weather arrived, I couldn't wait to wear this look.
There's something effortless about a pretty, flowing and soft skirt that just makes you feel good! I found this gorgeous piece at metro style an amazing (and affordable) online shopping experience. Yellow is really on trend for spring this season and I love infusing classic styles with a dash of something interesting! This skirt is a fave this season, for sure. These pretty multi strap sandals are also from metro style and besides being absolutely gorgeous, I can also walk in them – a win, win! I can't tell you how many times I admire a higher height heel only to realize that I can't walk in them — none of that here — these shoes are a spring to summer must-have and look great with everything in my wardrobe.
By now, you have also probably noticed this Parisian style handbag, I am all about shopping at hip and beautiful New York City boutiques and I found this pretty handbag at an amazing store on Bleecker Street in New York City called Accessorize. From the latest in jewelry to fun statement bags (such as this) there is something for everyone. Grab a girlfriend, do lunch and visit this shop, you will fall in love with the novelty handbags and the prices are reasonable!
The final touch to any look is jewelry and there's something about blue tones, either gem or turquoise that just celebrates the nice weather and even have us thinking about the beach. This sparkling blue quartz ring by Amelia Rose and this gorgeous Larimar cuff add a beautiful pop of color.
What outfit are you most excited to wear? Let's keep the conversation going! Tweet @DanaPrigge I always enjoying hearing from you.
Outfit Details: Sweep Maxi Skirt: metro style/ Blouse: NY and Co/ Parisian handbag: Accessorize on Bleecker/ Sandals: metro style/ Ring: Amelia Rose Jewel/ Bracelet: www.larimar.com