Some of the most stylish women of the world can be found in New York and Paris. DailyFashionista had the opportunity to sit down and chat with the beautiful and talented Tiffany Keriakos owner of Designer Revival. A unique luxury vintage shopping experience that has an Upper East Side, New York location and an online presence. Timeless fashions are definitely a way to build an everlasting wardrobe. Tiffany sheds light on what it takes to run a business like this, shares some of her style recommendations and offers business advice!
She travels regularly to Europe and Asia in search of style treasures and has a true love and touch for making women feel fabulous in their clothes. Her favorite designers include Roland Mouret, Givenchy, Chanel, Alexander McQueen, and Tom Ford. I also enjoy stopping by the Designer Revival Instagram to see some of their latest available fashions!  Tiffany enjoys the diversity her career in fashion brings, but spending time with her husband, child and dog tops her list — along with some one-of -a-kind Chanel, of course! Here's what she had to share;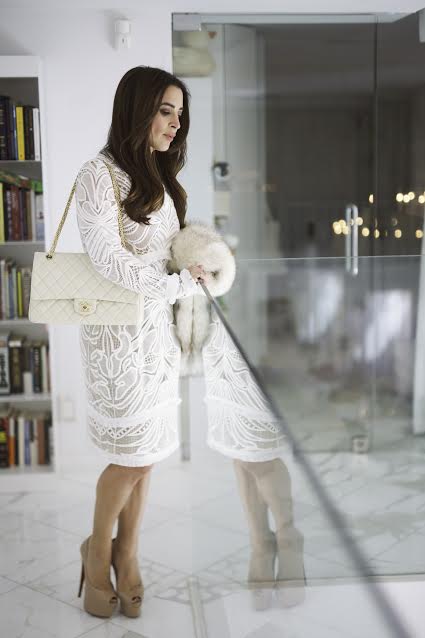 What gave you the idea to start Designer Revival Vintage?
I've always shopped consignment and always loved fashion. I had just gotten married and had a child and wanted to make a move to do something different. I was actually going to start my own website with just high-end inventory that I had collected from friends and family, but it just so happened that the consignment store I used to shop in all the time was up for sale. It was perfect timing and I purchased the store Designer Retail in 2015.
Obviously you own a business and are in the fashion industry. What are the top five things in your wardrobe that you can't live without?
A fabulous pair of jeans that really fit you well and are tailored to your body shape. A great pair of wedges – I have wedge sneakers, wedge sandals, wedge boots – I'm a short person and they're so comfortable, especially if you're running from the subway or the bus when traveling in New York City. A great pair of boots or booties that go well with jeans, a dress or a pencil skirt. A messenger bag is also key – I preferably love what Gucci has out right now or Chanel –but everyone has their own version of that. A staple leather or fur coat that you can wear with everything is what gets me through the fall and winter. I'm still addicted to my Bobbi Brown concealer because I've had it for so many years and it works!
What are the various ways you get merchandise into your store?
Obviously people can come in and drop things off whenever they want. We also do pick-ups in home – we just did a large pick-up of vintage Chanel from someone who was in the fashion industry forever and had collections since the 1950's. Being able to find someone like that is key, especially if they were in the industry. Another way we get items is going to estate sales – we'll get calls from people or attorneys stating that someone had just passed away and a family may be looking to sell their things. So we get items like that as well, where someone passes away with three walk in closets with clothes in their apartment on Park Avenue and their family doesn't really know what to do with their things. I also travel to Paris at least once a year and do vintage shopping out there – go to the flea markets and consignment and vintage stores out there and add to the collection. I also will travel to other consignment stores as well, for example I'm going to Palm Springs shortly on vacation, but they also have a lot of wonderful stores out there, so I'll probably go broker a deal with one of the owners and add to my collection. Sometimes their audience may be different, or they're sitting on a lot of great vintage items that don't sell because of where they're located, but may be better here in New York. There are many different ways that items wind up in my store.
What/Who are some of your personal fashion icons or inspirations when you're looking to add pieces to your business?
The classic high-end brands that we always revere and hope to have a million pieces of – Chanel, obviously – – Hermes, too– we have so many beautiful vintage pieces that we just got from Hermes, but that's for a different type of customer. Whereas Chanel reaches more of a wider customer base from Millennials to seniors. I think Hermes definitely has a specific woman who has a specific taste – it does very well in our store in the Upper East Side. I also have a love for Tom Ford – especially when he was at Gucci. I collected a lot of pieces of his when he was at Gucci, and obviously now with his own line, whenever we get things of his in they go very quickly. Even his men's items as well. Everything about him is just so fabulous.
Do you get any men in your store, is it women buying for men?
It's funny, because the prior owner of the store, her son-in-law owns a men's consignment store which is about two doors down from me. So the men will go into the men's store and their wives or significant others will come into my store. Or, the men will know about us from their experience in the neighboring store and will come in to purchase gifts for their significant other. They do come in, but come in with a specific item in mind, but it's mostly for gifts.
Where do you see the consignment business going?
I think it's about click and mortar, as opposed to brick and mortar. Meaning, there's going to be on-line as well as people physically visiting the store. Consignment started with just mom and pop shops, looking dingy and looking like an attic and were neither luxurious nor a nice shopping experience. Now you see more and more popping up as chic modern boutiques. For me, my growth has to come from my website. The store is wonderful and people do come in and shop, try things on, touch and feel it in the store, which is great. I think it's great to have a base and the ability to expand both online but physical locations as well. We're also getting stylists coming into the store wanting a one-of-a-kind piece. If you're looking to get a dress for an event and being able to have a top piece from 1995 – that's special – it's a gorgeous piece that you can't find everywhere. We actually get a lot of designers who come into the store to purchase items and use it for inspiration. It's quite interesting.
Have any fashion stylists come in and pulled looks for celebrities?
We just had someone come in from Women's Wear Daily – we're going to be in this current April issue with some of our Chanel jewelry – but I haven't had a stylist say that "this celebrity will wear this." But we do get some celebrities in – we just had Ashley Olsen come in interested in our Chanel collection, and also one of the actresses from the show Girls came in, and we'll get Catherine Zeta Jones, or other celebrities that do come in, but I can't say we've had a stylist come in and let on who the pieces may be for.
 What are some of your favorite places to unwind, or little chic spots in Manhattan?
Tracy Anderson is where I work out, and that's my Zen time. I absolutely love going there, and it makes me feel amazing. My husband got me a gift certificate to a meditation place in the Flatiron District. I went there and have been trying to get back ever since. Living in Tribecca, right by the water, we have our local restaurants and bars to visit, and also enjoy the riverfront as well with Hudson Park.
You're a woman who's running a successful business. A lot of people really look up to a woman like yourself making it in the fashion industry, which is certainly a difficult task. What is your best advice for women looking to make it in business or make their mark in the world?
Take risks – just go with it. It's not going to happen unless you take that risk and do what your gut is telling you to do. It might work, it might not, but you can't be afraid to go for it. That is my motto. If you don't try it, you're not going to know. No is the second best answer to yes.
Here are some of the Designer Revival pieces that have caught our eyes! They really have an incredible selection of vintage fashions, accessories and more. Be sure to stop by their website for a full list of services.