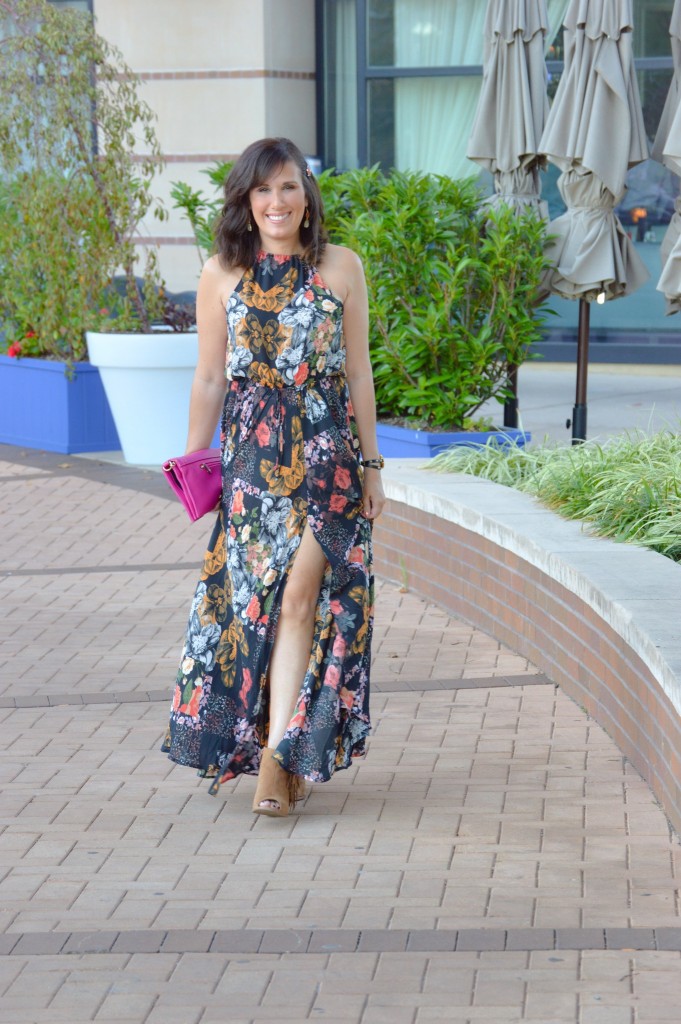 There's something about that early fall vibe that's so enjoyable. Besides grabbing for that first #PSL at Starbucks, there are stylish ways to incorporate that fall feeling into your seasonal look!
Definitely reach for maxi-dresses their long length will keep you warm. If it gets chilly you can opt for a neutral cardigan or earth tone sweater to stay comfortable as the temperatures begin to drop. I fell in love with this beautiful maxi-dress from Lulus. The fall butterfly pattern on this dress is so gorgeous and I immediately planned a dinner date, so I could wear it!
Accessories are always important and adding those personal touches most definitely lend personality to what you're wearing. Fringe boots or booties are really in style right now. I also enhanced the look with beautiful makeup from Pur Minerals. I recently discovered Pur and I'm getting so many compliments on my skin! This Soul Mattes eye-shadow collection does a great job enhancing your natural beauty and that's why I'm loving this beauty line! The gloss stick in Honey Pie has quickly become one of my fall must-haves and is currently in my purse for grab and go application.
How do you like to transition your wardrobe for the fall season? Tweet @DanaPrigge I enjoy making new stylish acquaintances!
Outfit Details: Dress: Butterfly Maxi Dress Lulus/ Booties: Charming Charlie/ Makeup: Pur Minerals Soul Mattes Palette/ Clutch: Target/ Nailpolish: Zoya in Tinsley