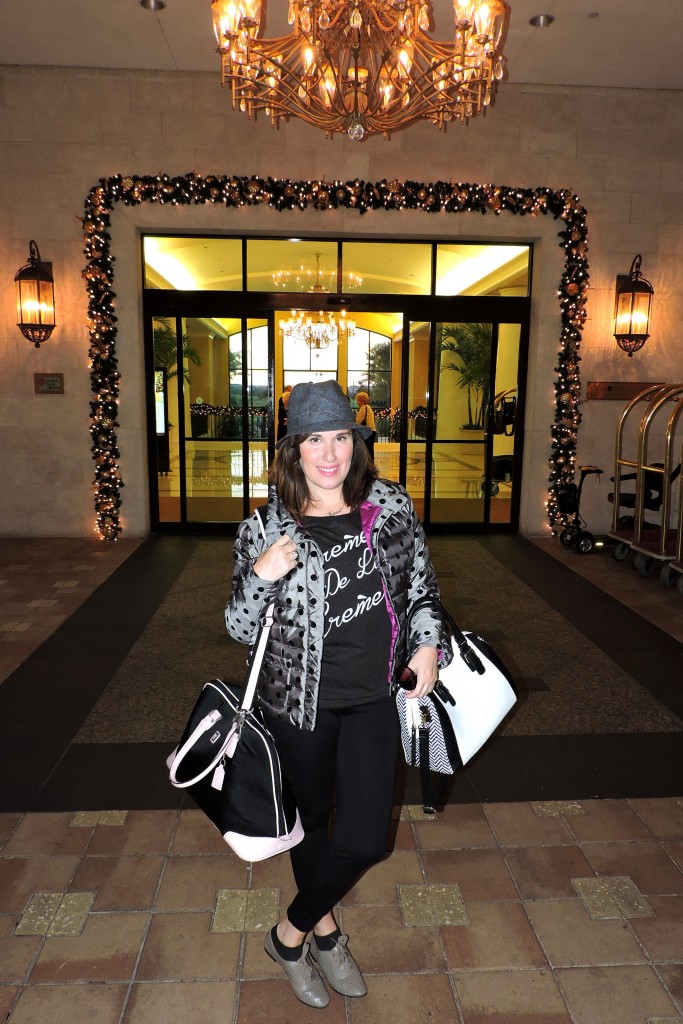 With the freezing cold temperatures in the New York metropolitan area, many of us are thinking about traveling to warmer climates. I recently went on a trip to Florida, a road trip to be exact. I heard that the weather in Florida was all over the place and that it would be cold. Actually, we had some days that turned out to be 82 degrees — of course, I was extremely happy about that!
While you are driving from state to state though you need to be prepared for various temperature changes and you also want to be comfortable. Sometimes, in blogs you see outfits that people put together to show a look. This is the outfit I wore during the drive and the actual pictures that were taken when I arrived that day.
There are a few key pieces that I was thankful that I was wearing for the ride. A lightweight sweater from Charming Charlie which had the wording – Creme de la Creme was both fashionable and comfortable. A great pair of stylish leggings from Lysse' were great during the car ride (and throughout the trip). This mid-weight jacket from Lands End was both stylish and so easy to wear. A necklace that pairs well with everything a monogram piece by Jane Basch jewelry. Here are the rest of my must-haves for travel. If you live in the city, I hope you have the opportunity to visit somewhere warm. As always, I carried my trusty DVF luggage.
Outfit Details: Top: Charming Charlie/ Jacket: Lands End/ Leggings: : Lysse' c/o/ Monogram 'Inspire' Necklace: Jane Basch/ Grey Fedora Hat: Century 21 Stores/ Shoes: Forever 21/ Handbag: Charming Charlie/ Luggage: DVF