While I enjoy the fantasy at times, New York Fashion Week has always been a way to gain inspiration on how to recreate looks and beauty tips from some of the best in the fashion and beauty genres. When these inspirations are obtainable and I can use these tips in my daily routine, it's a wonderful feeling! This is so helpful for today's woman on-the-go, who may be overwhelmed or unsure about how to achieve some of these looks at home.
Leave it to TRESemmé to share how you and I can get that romantic, touchable hair many of us desire! DailyFashionista really had our stylish gaze upon two standout fashion week hairstyles at the Jill Stuart and Rebecca Minkoff NYFW SS/18 shows. Here's the inside how to: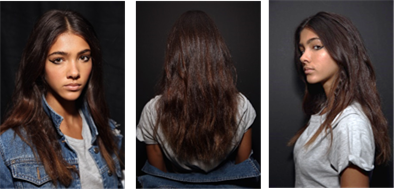 "MY 'DON'T UNDERESTIMATE ME' HAIR" FROM JILL STUART":  NYFW Stylist, Odile Gilbert created a voluminous blowout for the Jill Stuart show, a look sure to instantly boost any woman's confidence. Create extra volume by using your fingertips to tease hair. The final result is not only voluminous, but touchable and soft" – Odile Gilbert, TRESemmé NYFW Stylist
STEP 1: Start by washing hair with TRESemmé Repair & Protect 7 Shampoo and Conditioner to protect hair against heat and styling damage.
STEP 2: Work TRESemmé TRES Two Mousse through damp hair and blow-dry, starting at the roots and working through to the tip. Once dry, spray TRESemmé Fresh Start Volumizing Dry Shampoo at the roots in 2" sections.
STEP 3: Curl 2" sections around the crown of the head and tease the roots of the curled sections. Spray hair with TRESemmé TRES Two Hair Spray and work fingers through curls to create soft waves.
STEP 4: Tease ends of the hair to create overall volume and braid a section of the hair next to each ear. Run fingers through hair to create a tousled look.
TRESEMMÉ PRODUCTS USED: Repair & Protect 7 Shampoo and Conditioner, TRES Two Mousse, Fresh Start Volumizing Dry Shampoo, TRES Two Hair Spray, Tools used: Curling iron
Next up: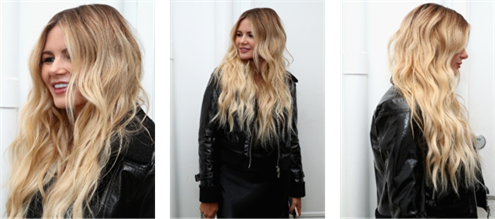 "MY 'IT TAKES EFFORT TO LOOK THIS EFFORTLESS' HAIR" FROM REBECCA MINKOFF": "Take large vertical sections for the most natural finish"- Justine Marjan, TRESemmé Global Stylist. Chic tendrils were created at the Rebecca Minkoff show led by TRESemmé Global Stylist, Justine Marjan. Trailblazers like Arielle Charnas of Something Navy and Amber Fillerup Clark of Barefoot Blonde rocked this downtown, boho hairstyle on the runway that screams effortless.
STEP 1: Start by washing hair with TRESemmé Repair & Protect 7 Shampoo and Conditioner to protect hair against breakage
STEP 2: Create a clean, center part and prep hair with the TRESemmé Repair & Protect 7 Pre-Styling Spray
STEP 3: Apply the TRESemmé Fresh Start Volumizing Dry Shampoo to create extra volume and texture, then spray the TRESemméTRES Two Hair Spray all over hair for added hold
STEP 4: After applying hair spray, brush through hair with a smoothing brush, then use a 1 ¼ ghd Soft Curve Curling Iron in alternate directions on small strands of hair
STEP 5: Take the right side of hair and twist away from the face, then shake up strands in between hands; repeat on opposite side
STEP 6: Finish with the TRESemmé TRES Two Hair Spray for extra hold and grip
TRESEMMÉ PRODUCTS USED: Repair & Protect 7 Shampoo and Conditioner, Repair & Protect 7 Pre-Styling Spray, Fresh Start Volumizing Dry Shampoo, TRES Two Hair Spray. Tools used: ghd Soft Curve Curling Iron
*Images via TRESemmé