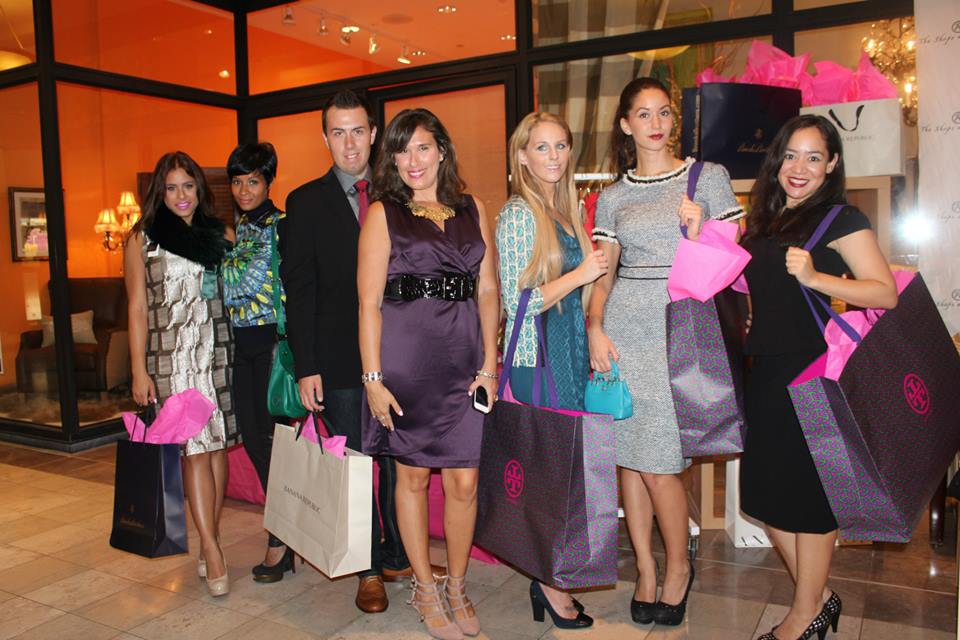 Dana Prigge' Editor-in-Chief of DailyFashionista.com (center) and the gorgeous models wearing the latest fall fashions from The Shops at Riverside.
All photos courtesy of SuperGlam News
The fall season is in full-swing and that usually means one thing for most of us — a little shopping! Recently, I had the opportunity to style and host a fabulous fashion show at the gorgeous The Shops at Riverside Mall conveniently located just outside Manhattan in Hackensack, NJ. It was a wonderful night where mall visitors were treated to fabulous food from Maggiano's, tasty cupcakes, sipped on the fashionable drink of the night Diet Coke, entered exciting raffles such as a trip to the British Virgin Islands and so much more!
I especially enjoyed sharing and showcasing the latest fashions of the fall season from some of my favorite retailers! Featured were the hottest styles from Cole Haan, Brooks Brothers, Kate Spade, Lilly Pulitzer, L.K. Bennett, Tory Burch, Banana Republic, Ann Taylor, and Francesca's Collections. The hottest Metro NYC/NJ area writers and bloggers modeled the chic seasonal styles and the crowd enjoyed receiving style-tips from yours truly while they shopped! The participating stores also had shopping incentives as a way to say thank you for shopping at The Shops at Riverside. The event was filled with smiles, fashion, fun, positivity, food and special treats! A special thank you to the wonderful "Girl's Night Out" team for giving me the opportunity to spread fashion, fun and positivity throughout this enjoyable evening!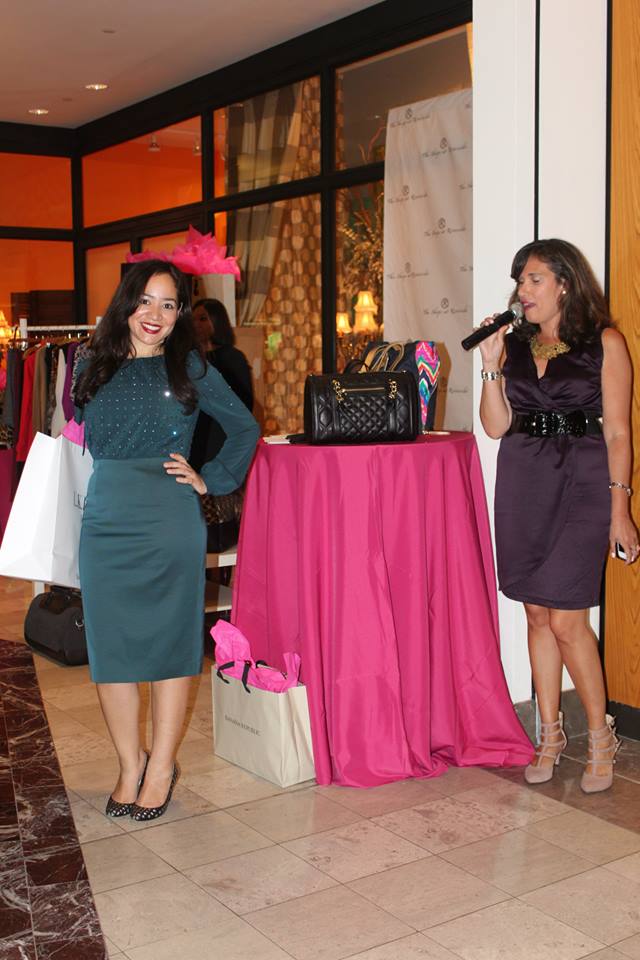 The Fashion Presentation showcased all of the gorgeous Fall/Winter looks of the season and were all styled by yours truly!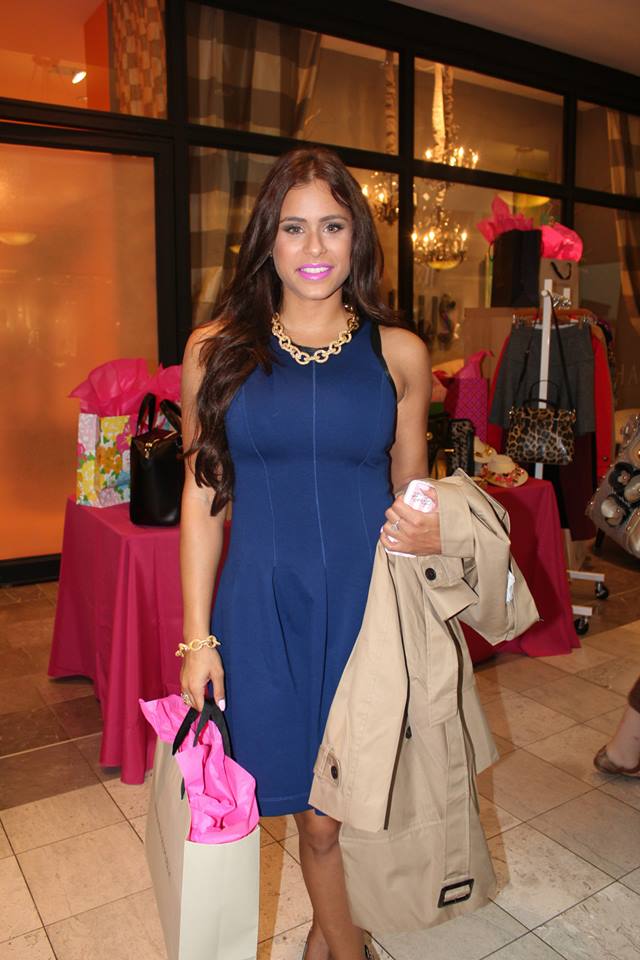 Melissa from Super Glam News looked stunning in a gorgeous dress and trench coat from Banana Republic. Style tip: Blue is universally flattering on all skin tones and a great trench coat is a definite fall wardrobe must!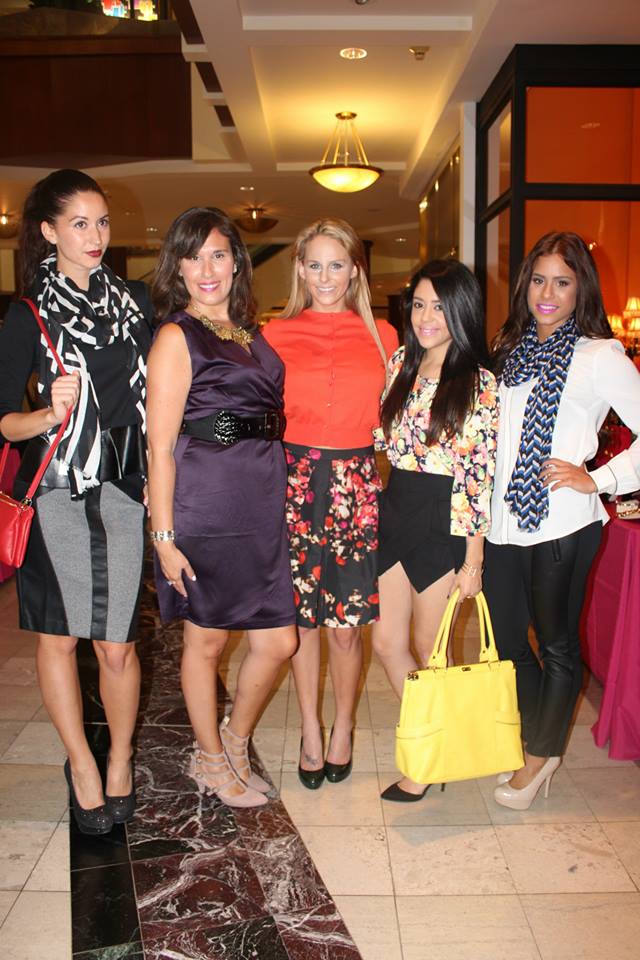 (Left to right) Adrienne is wearing a fabulous look by LOFT and she looks very pulled-together — Adrienne is wearing a key piece of the season the graphic scarf. Dana Prigge' of DailyFashionista wearing a plum dress a key color of the season. The stunning blonde beauty Brittany is wearing a gorgeous persimmon cardigan and floral skirt by LK Bennett. Melissa is at the end wearing three fall top key trends; a stunning blouse, patterned scarf and the must-have pant of the season the leather skinny all from LOFT.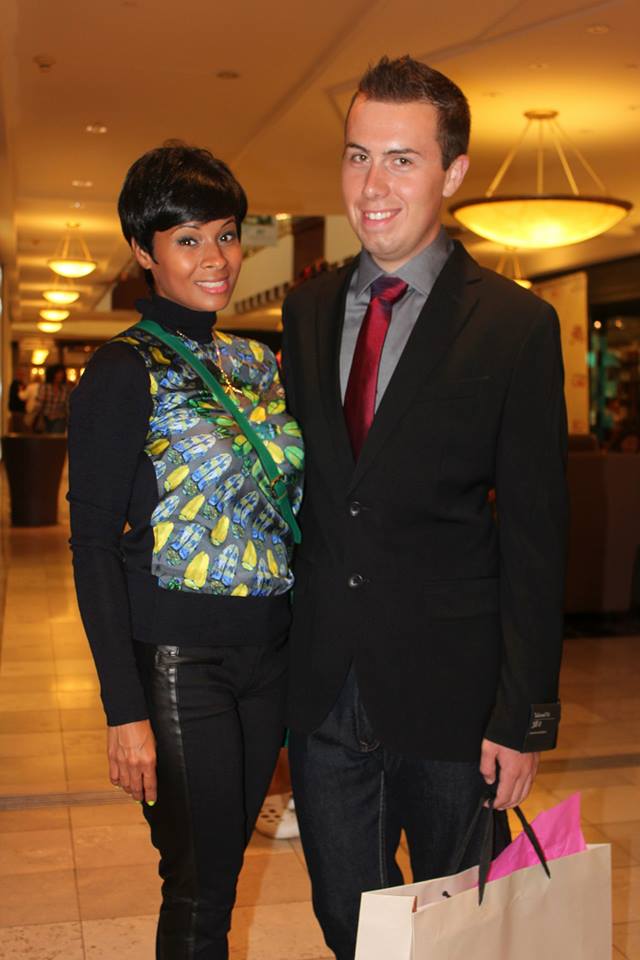 Every girl is crazy about a sharp dressed man! Kyrzada from LovenDresses a picture of vibrant beauty in head to toe Tory Burch. Style tip: your fall bag need not be boring — have some fun with color and wear a statement bag that will bring new life to your fall wardrobe. Derek from The Derek Z Show wearing head to toe Banana Republic and looking quite handsome with a pop of crimson red in his tie. Men, style tip: Add a rich color to that grey shirt and black blazer in your closet!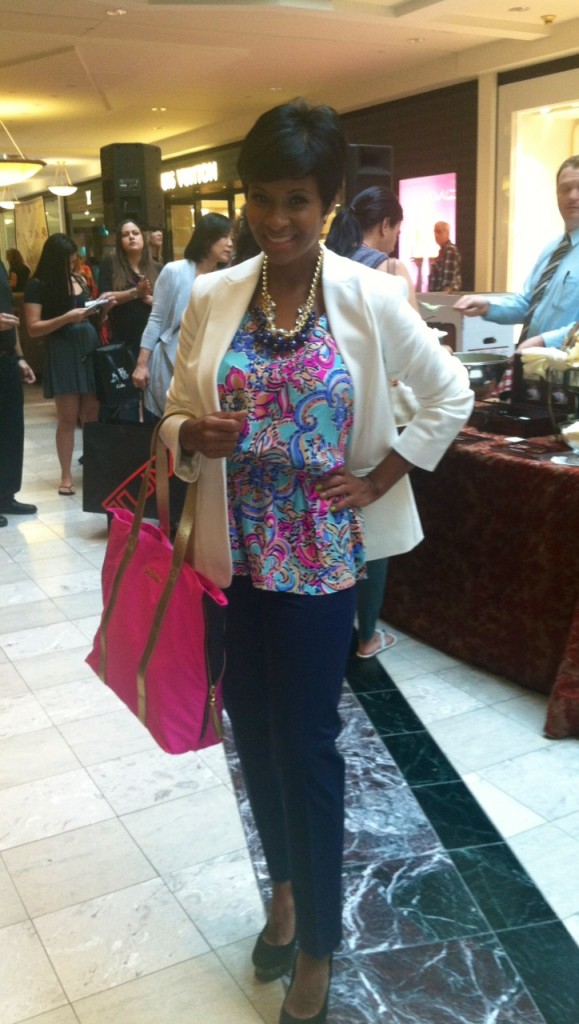 A gorgeous statement necklace is the perfect way to make an outfit "pop" and I really love this look from Lilly Pulitzer. You can wear this during the day and easily remove the blazer for a more nighttime feel. A great slack doesn't always have to be black — this deep blue pant is alluring and looks great!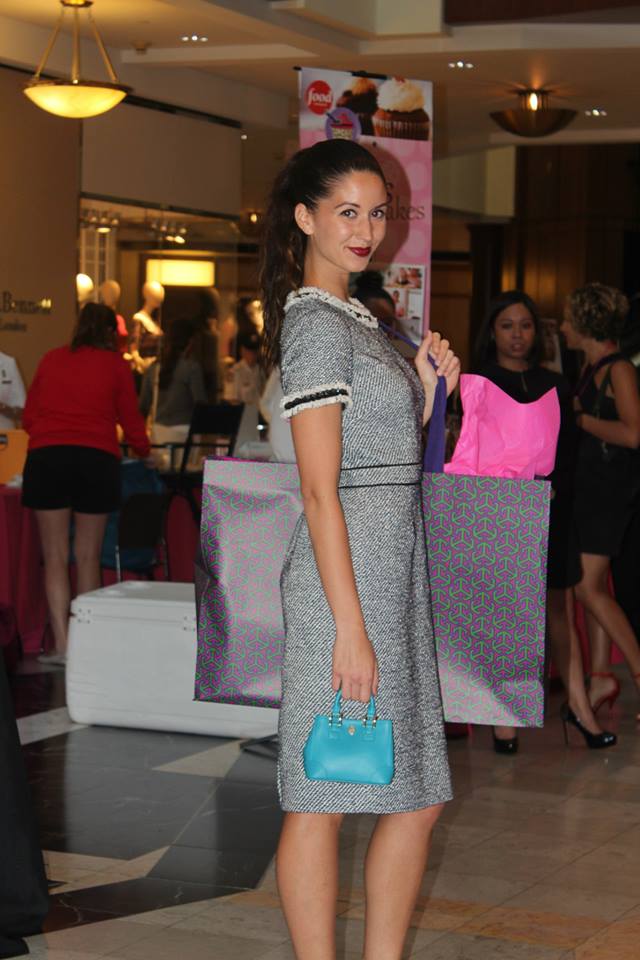 This tweed sheath dress from Tory Burch is the perfect fall dress seen on Adrienne, we added a nude shoe to elongate the leg a great style tip! So many guests were talking about the mini Tory Burch handbag — so ultra-chic!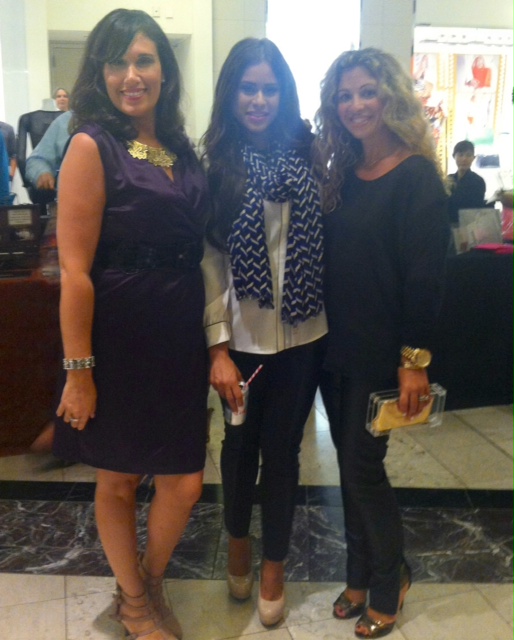 Dana Prigge' in cage shoes a big trend this season, Melissa in the accessory of the season a graphic scarf, sipping Diet Coke and guest Martha Fava of Runway Boutique looked rocker-chic in all black and wearing the pant of the season — the leather skinny.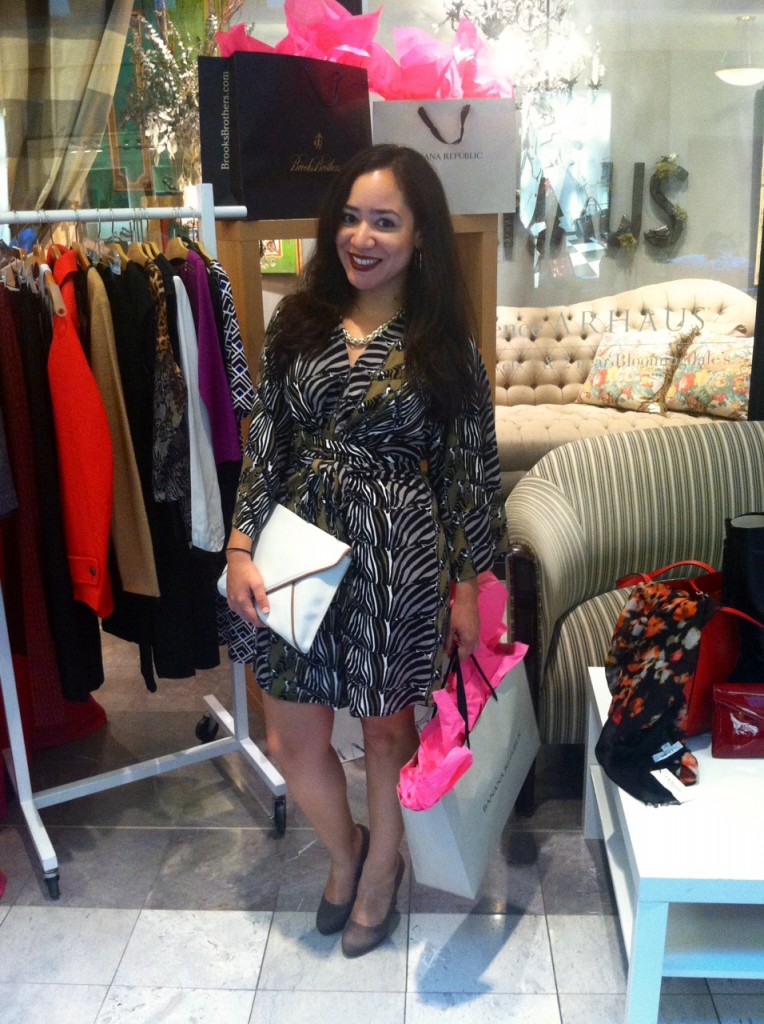 Another stunning look that can easily take you from day to night was this great versatile kimono sleeve dress from Banana Republic. Carla from Haute Cocktail wore this look and she really looked amazing in this piece. Banana Republic really has some fab fashions at reasonable prices!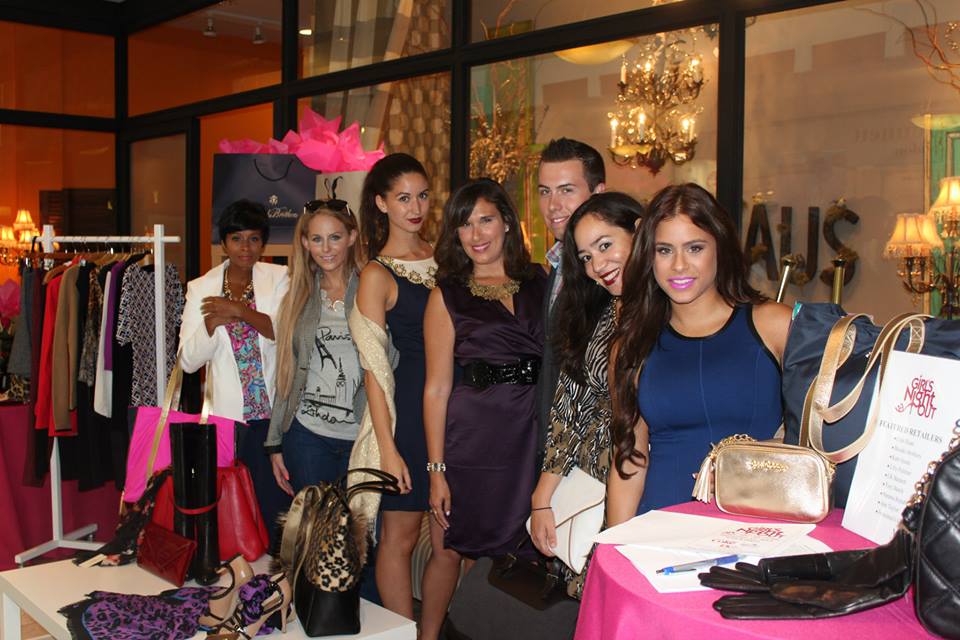 All of the models were styled to show that easy, flattering and stylish fashions are abundant at The Shops at Riverside!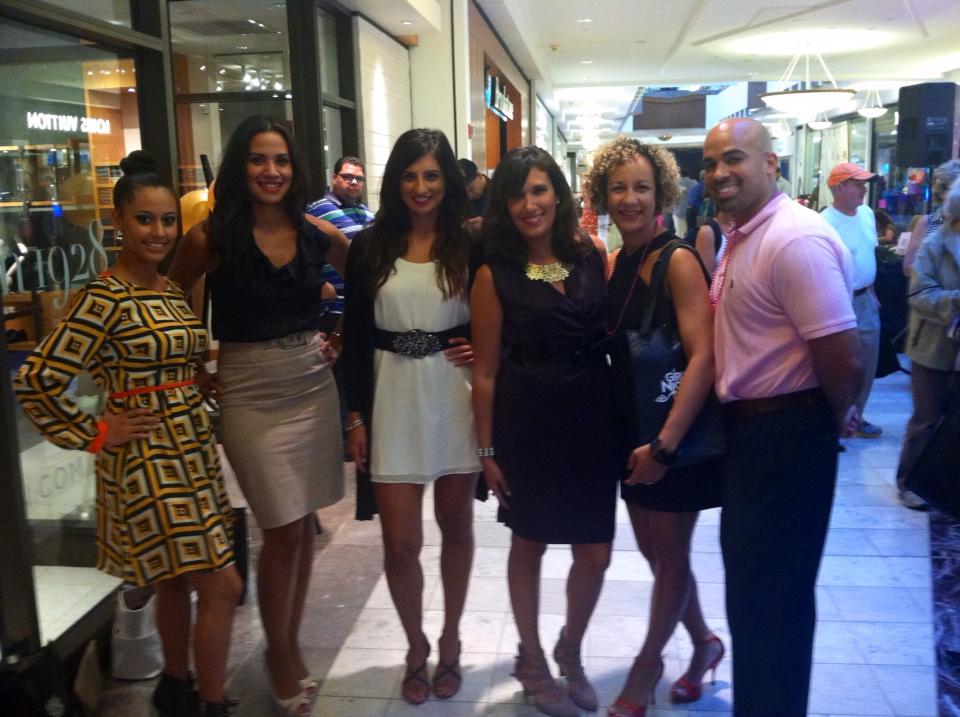 It was great seeing so many familiar faces and stylish noteables; Lucy Nunez, Crystal Franchesa, Diana Antholis of Unleash Your Sexy, Jennifer Daure – Life Coach, and Milton the owner of the amazing Xquisite Salon in Hoboken, NJ! Thank you all for taking part in the fashionable night!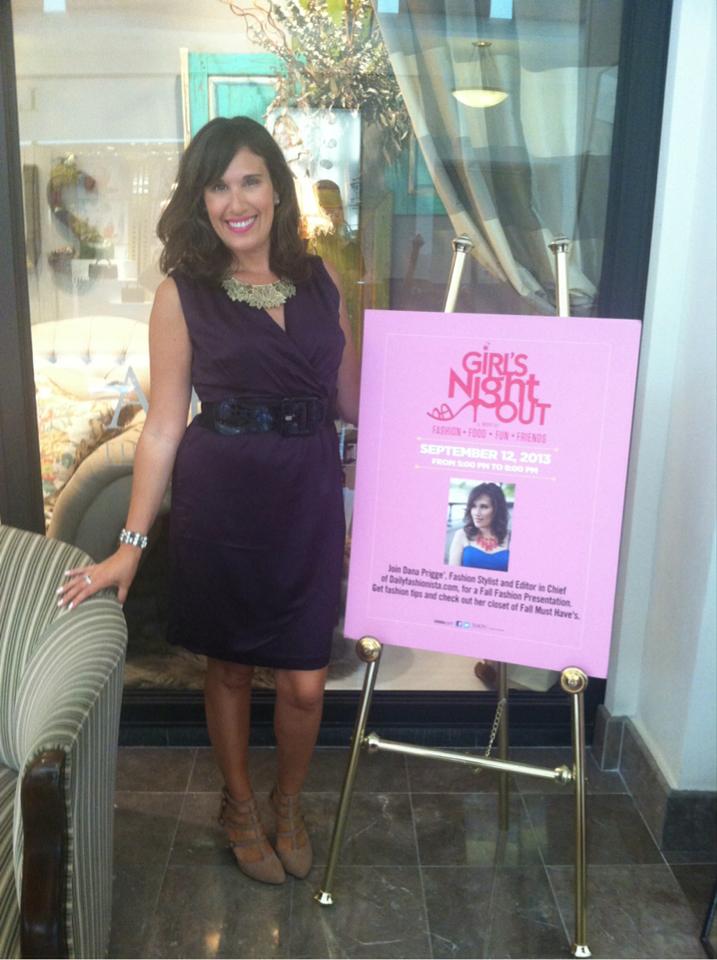 These amazing Tory Burch looks were a hit of the night! Unleash your super-style diva at The Shops At Riverside!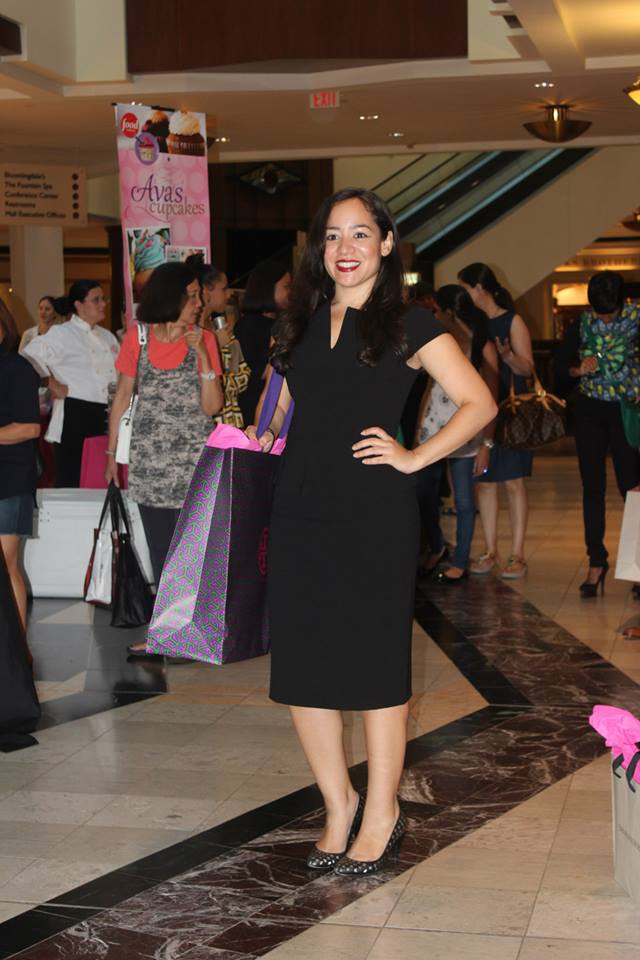 Cheers to the evening with Diet Coke!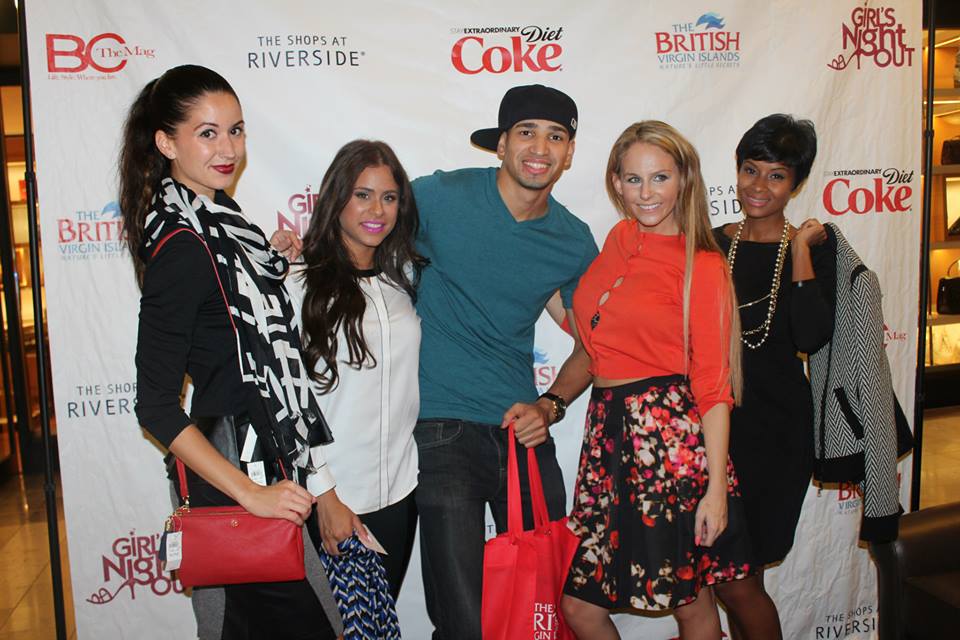 Dreaming of the holidays in this L.K. Bennett hunter-green embellished dress — a real stunner!