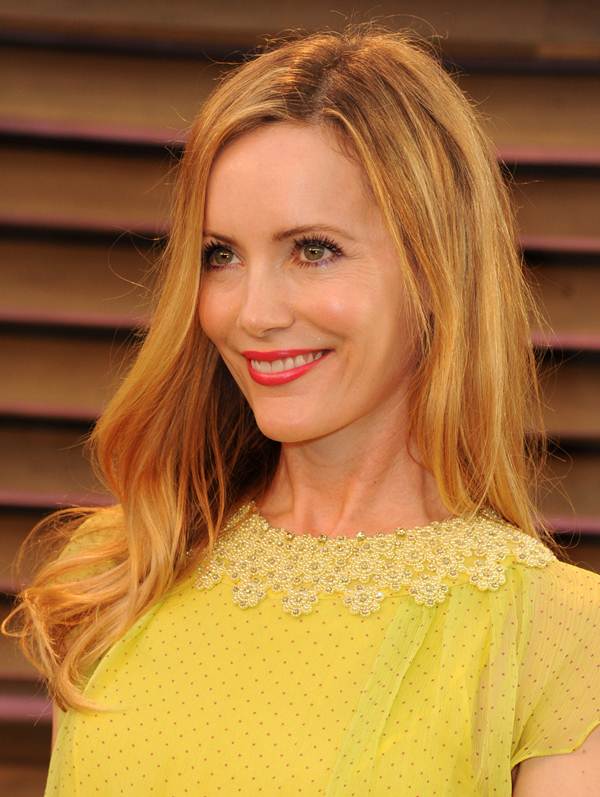 DailyFashionista.com always wonders how the hottest celebs always look so red carpet ready. The best way to score the inside details are from the experts that work with these fabulous stars. We caught up with two of the best makeup artists and grooming professionals in the beauty business to share the details on how to achieve glowing and gorgeous looks!
Hitting the red carpet for the 2014 Vanity Fair Oscar party, Leslie Mann was a radiant beauty from head to toe. "I wanted to give Leslie's makeup a fresh, young look, with an emphasis on pink tones, to give a flattering counter balance to her gorgeous chartreuse gown", said makeup artist Elaine Offers.

Elaine began by prepping Leslie's skin with Radical Skincare's Instant Revitalizing Mask ($65, Sephora) to invigorate and hydrate. The soothing formula delivers a dose of vitamins and energy to the skin, which when taken off, gives you that "just-left-the-gym" glow. "I followed with a few drops of Radical Skincare's Youth Infusion Serum, to lock in that moisture and firm skin," said Offers.
Elaine followed with "a touch" of Cle De Peau's Refining Fluid Foundation in I10, and Dior Beauty's Skinflash Radiance Booster Pen in 001 Rosy Glow to highlight and perfect.
Leslie's cheeks were then lightly blushed with Tom Ford's Frantic Pink, and her eyes were softly shaded with the gold tones in Tom Ford's eyeshadow palette in 01 golden Mink, and the rosy tones in 12 Seductive Rose palette.
"Her lower lash line was enhanced with Urban Decay's 24/7 Pencil in Asphyxia, an iridescent lavender that really flattered her green eyes," said Elaine. "We finished the look off with Kevyn Aucoin's The Essential Mascara in Rich Black and Tom Ford's Lip Color Sheer in 08 Incorrigible, for that perfect pink pop."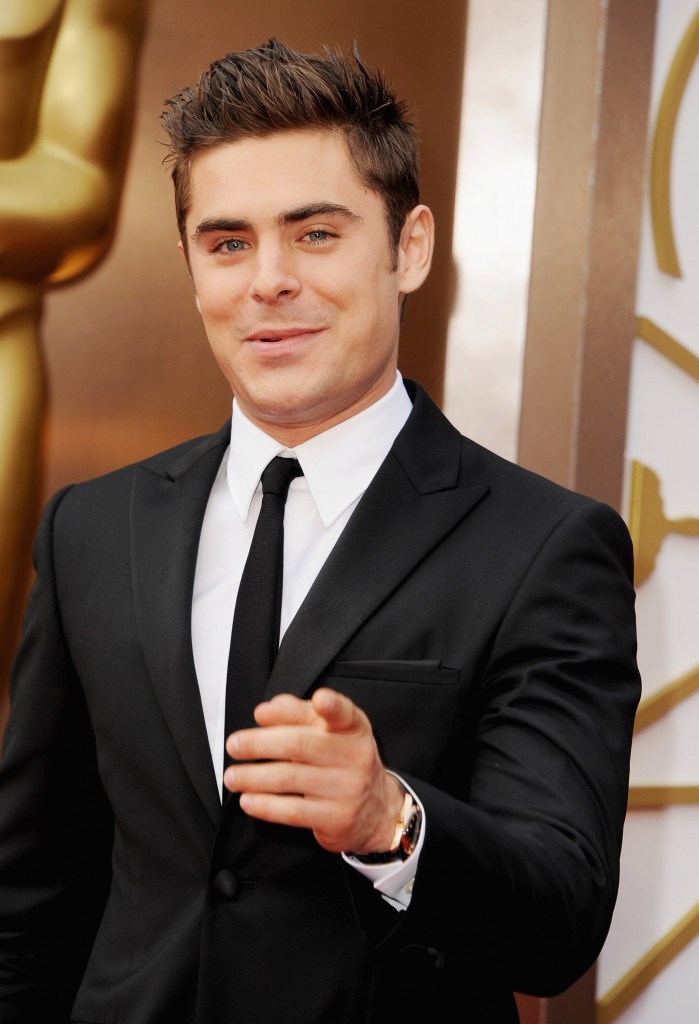 "We decided to go with the classic "Old Hollywood" meets young and modern vibe – Zac's classic Calvin Klein tux channeled this look perfectly," says men's groomer Kim Verbeck, talking about her client, Zac Efron. "Zac's style is all about maintaining length on top with shorter sides and back, pushed off the face and with just the right amount of height and texture."
To begin, Verbeck recommends the Babyliss Volare X2 Clippers to cut the sides and back, blending the edges into the top layers, and leaving the top a little longer, with a textured finish.
"An easy way to create that added texture is to hold sections of the hair about 1 cm. below where you will cut, and with a light, feathering motion, "dip" into those small sections of hair at a 45 degree angle just on the ends," adds Verbeck.
Kim finished by using the Babyliss Volare X2 Clippers to create perimeter shape by cleaning up the nape, then finishing over the ears and sideburns.
To follow, Kim lightly misted Zac's hair with water, then placed a dime-sized amount of one 'n only's Speed Style Styling Cream in the palm of her hands, running throughout.
She followed by blowdrying Zac's hair, in the opposite direction of the hair growth, to create added volume.
Finally, to give the style some structure, keep that texture and allow for a matte finish, Kim used the one 'n only Speed Style Dry Texturizing Spray, running it through the top of Zac's hair only. And lastly, to finish the look, Kim used one 'n only's Speed Style Finishing Hair Spray, which is "always the best for men's hairstyles that have more length at the top," says Verbeck.