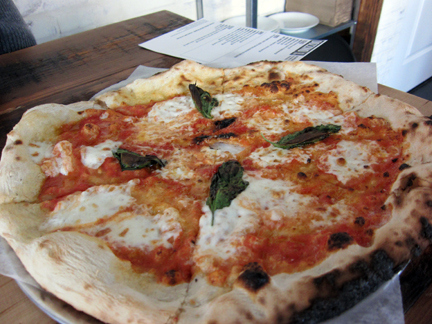 Dozzino
in Hoboken, NJ
The week isn't over yet and you never need an excuse to enjoy a fabulous pizza pie. There's something to be said about an incredible pizza. Thin or thick crust, oozing with cheese and tasty sauce it's a culinary delight. At DailyFashionista.com pizza is the ultimate in comfort foods. Who made our top list of must-have pizza?! We have personally taste tested all pies that made it into our top list. Lovers of fashion and food #DF is excited to share our culinary finds — so, let's dig in and find out. Buon appetito! Tweet: @DanaPrigge and share your favorite pizza restaurant – I'd love to hear from you!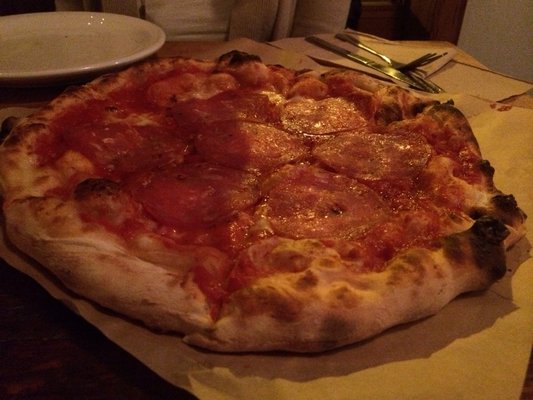 Dozzino:
This gem is located in Hoboken, NJ and serves up fresh pizza with delicious toppings. The rustic interior of this BYOB is quite charming and the "personal pizza" allows you to create your own version of tasty. This artisanal pizza restaurant will have you wanting more — from the Spesto Crostini (baby spinach, walnut and pecorino romano) , to specialty pies with roasted garlic (who cares about your breath), and with the Spinach and Artichoke pies you will love this fresh take on pizza. Dessert here is a must!  Nutella & Marscarpone Crostini's were the perfect finale to our meal.
534 Adams Street, Hoboken, NJ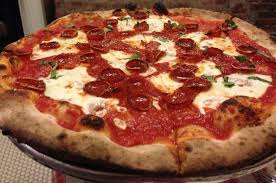 Lombardi's Pizza: 
There's  something to be said about going downtown to Spring Street in NYC. The cool vibe, the people watching and the fabulous food all aim to please. During 1905, Lombardi's was licensed by the City of New York, becoming America's First Pizzeria (pretty, impressive). While there, I tried their pepperoni pizza pie and it was incredible. The crust had a slight crisp to it and was cooked to perfection. Open until midnight on Friday and Saturday nights — you can satisfy your cravings for the cheesy, saucy goodness — late-night. They also have a great bar. Mangia! You can walk off dinner with a fun stroll around Soho.
32 Spring St, New York, NY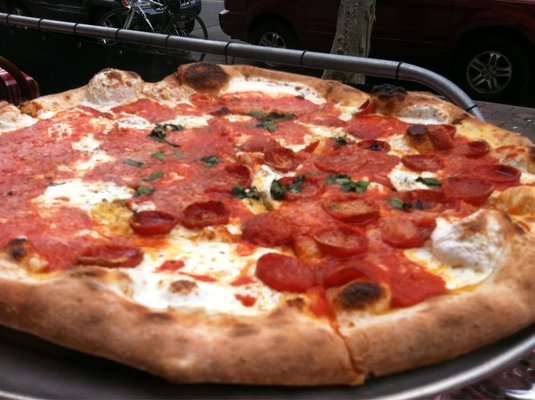 Grimaldi's:
If you're looking for delectable pizza fairly close to the Path train in Hoboken, NJ then Grimaldi's is all you. I started with a Caesar salad and it was really delicious. Next up, their homemade fried mozzarella with a side of sauce. Their mozzarella sticks are probably my favorite because they are homemade and that makes a huge difference in the taste.  The Washington Street location also makes a girly cosmopolitan, has various beers on tap and a great scotch selection (who, knew).  I usually order half plain and half pepperoni with onion. Their pizza receives two manicured thumbs up.  Their cannolis are also really wonderful (if, you have any room left). In the warmer months you can stroll the boutiques on Washington Street such as
Bella Ro, Hoboken
.
411 Washington Street, Hoboken, NJ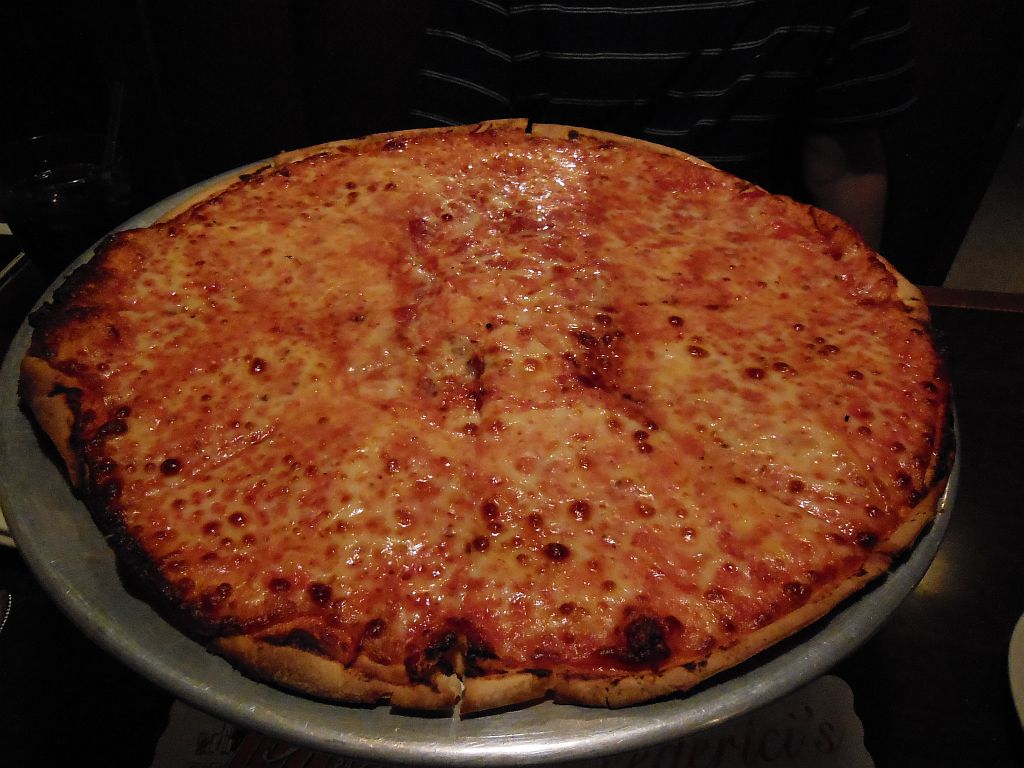 Federici's: This  Central NJ gem is known for their famous Matzoh pizza, meaning that their pizza is extra thin and extra crispy. I can honestly say on record, that this is probably one of my all time favorite pies. It's light and tasty!  The house dressing on their salad is equally tasty.  I enjoy the friendly, casual atmosphere here and it's a great place to unwind, relax and enjoy an incredible pizza pie. Federici's is a family operated restaurant for over 85 years.
14 E Main St, Freehold, NJ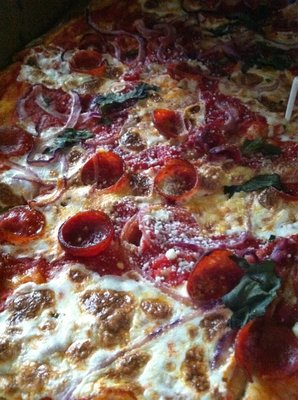 Napoli's: Another Hoboken favorite is Napoli's. Their pies are cooked to perfection in a brick oven right in front of your eyes. They also carry various gluten free offerings and soda's made with real sugar cane (as opposed to preservatives). Whether you dine inside when it's cold or outside when the nicer weather arrives — you will enjoy your time here. This uptown Hoboken establishment also carries wonderful salads — such as the Arugula salad (freshly chopped red onions, wild mushrooms, cherry tomatoes in olive oil and balsamic vinegar). In addition,  start with the  bruschetta — chopped tomatoes, onions sautéed in extra virgin olive oil on toasted Italian bread.
1118 Washington Street Hoboken, NJ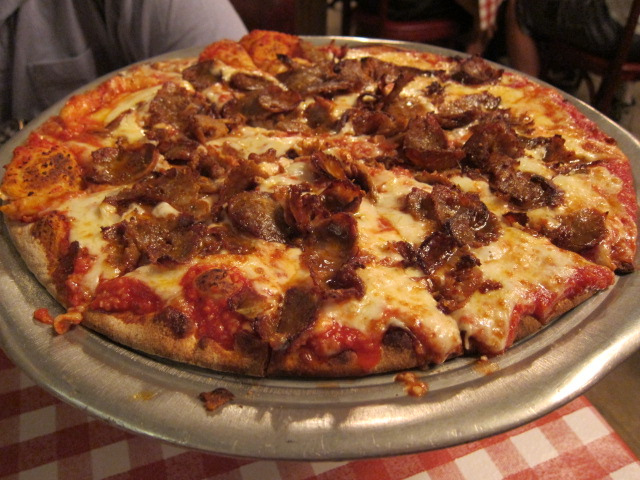 Kinchley's Tavern: Think old-school, thin and really tasty. This Northern Bergen County, NJ mainstay has been a staple since 1937. I started with their fried ravioli and it's a guilty pleasure of mine. The outside was so crispy with the perfect marinara sauce for dipping. The pizza is really paper thin and if you're in the mood for that type of pizza then this place is somewhere you should dine at. They also offer great house wines and the staff is really friendly. Many say it's the best pizza in Northern, NJ.
586 N Franklin Turnpike, Ramsey, NJ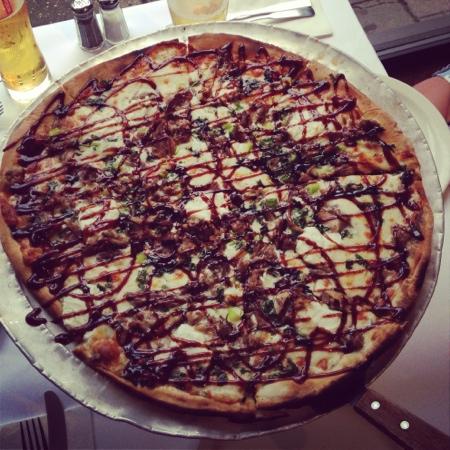 World Pie: I love visiting the Hamptons for many reasons; the sun, sand, surf, organic wineries and…the pizza! One of my favorite pizza restaurants is most definitely World Pie in Bridgehampton, NY. Offering wood-fired thin-crust pizzas, fresh salads, creative appetizers and remarkable entrees, their goal is to provide casual, accessible excellence in a relaxed, comfortable atmosphere. I love dining there during the summer months at their outdoor seating area. Choose from; The Classic (Tomato, basil and mozzarella), Smoked (Smoked mozzarella, tomato and basil), Tuscan (Rosemary roasted chicken, tomato, broccoli rabe and ricotta), Parma (Prosciutto, mozzarella, pesto and tomatoes), Mr. Tang (Asian duck, scallion, cilantro, mozzarella and goat cheese). If you're traveling to the East End, I highly recommend it!
2402 Montauk Hwy, Bridgehampton, NY