Article by Morgan Maxwell
PromGirl is a one-stop-shop to find the perfect dress and accessories for an affordable price. PromGirl has a dress for every special occasion — prom, graduation, Sweet 16, Bat Mitzvah and Quinceanera. Even if you have a wedding to attend or a special date night, there's something for everyone and that's what #DF likes about their selection.
DailyFashionista had the opportunity to attend a fun event that Prom Girl held during New York Fashion Week and we wanted to share the details with you!
The #TBT PromGirl event was every girl's fantasy. Everyone enjoyed a candy bar filled with various ring pops, M&Ms, candy necklaces, sparkly cupcakes and rice crispy treats. (Yes they were sparkly! So magical). They even had pink sparkly punch. PromGirl had a Class of 2016 board where you could leave your "classmates" a special message. I decided to plug in my Instagram, so my classmates can keep up with me post graduation. How fun!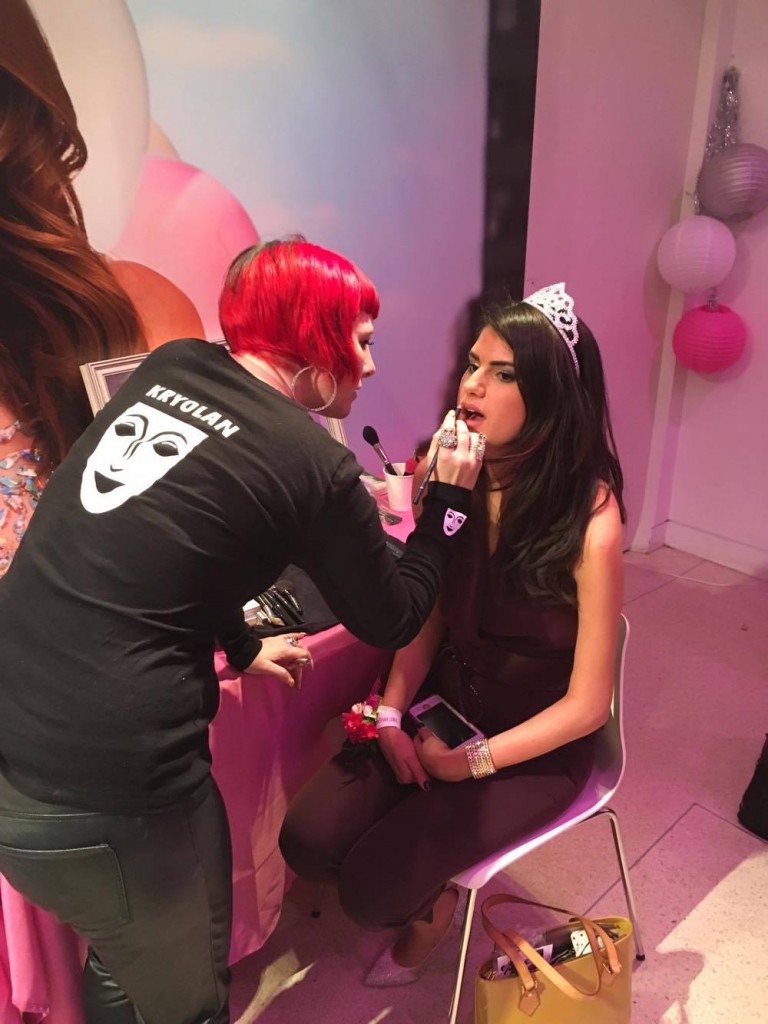 There was a hair and makeup bar where you could receive an '80s hairdo and makeup touch ups. I always wanted to know the secret behind Kylie Jenner's lips. How does she get them to look so big? I asked the makeup artist Kelly the secret behind Kylie's lips. Kelly demonstrated this coveted look on me. I have always put one color on my lips with a touch of lip-gloss over, however Kelly told me it is important to emphasis the middle of my lips by putting a darker color on the edges and a lighter color in the middle. She put a deep red color on the edges of my lips and a light pink color in the middle and blended the two colors together. The lighter color in the middle made my lips appear bigger.
With my makeup on point, it was time to get glam! PromGirl allowed all the guests to wear their Prom dresses for the entire night. The dresses ranged from gowns, short dress, casual dresses, two pieces, plain, rhinestones and sparkly dresses. Personally, I was surprised to see the two piece Prom Dress, it was absolutely stunning and so different from the traditional Prom gown. I spoke to the Merchandising Assistant, Sam who stated the two piece Prom Dress is one of the most popular dresses. The two pieced gown even made its way to the red carpet in 2016, when Kate Hudson rocked a two piece look at the 2016 Golden Globes.
PromGirl had racks of gowns color coordinated throughout different areas of the venue. I tend to gravitate towards the darker colors, however their line offers such pretty colors I decided on a light blue rhinestone Prom dress to take pictures in. PromGirl set up a photobooth complete with male and female models. This was truly a glamified moment.
Makeup lessons, '80s music, dress up, candy bar, cocktails and male models — it is safe to say that PromGirl's #TBT event was a huge success! If you are looking for a glamorous dress at a reasonable price check out PromGirl.com. We also enjoy visiting the PromGirl Instagram for further inspiration.