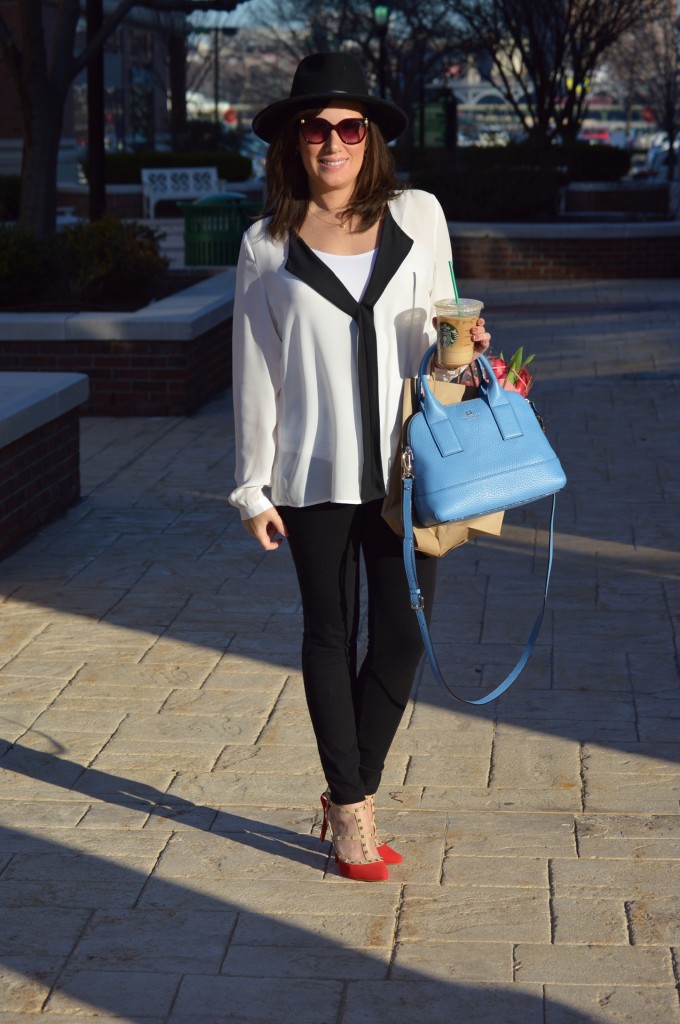 A spring vibe is making its' way to the New York metropolitan area and DailyFashionista is feeling it! We like to think spring is a time for fresh starts and new beginnings. We also like to think that wardrobe and beauty updates will enable you to have a renewed spring in your step, literally. When I wore this outfit the other day, the compliments were a plenty, so of course I'm sharing the details here:
I found this flattering blouse online at metrostyle. There is something crisp about a black and white combo that really gets #DF excited. The flow of this piece is great and you can add a pop with a colored bag or fun shoe. I opted for a splash of red in these chic metrostyle studded pumps. The added bonus is these shoes are not only uber stylish, but the heel is also comfortable and they are well-made (a fashion #winwin). With a sparkly druzy necklace and a swipe of mauve toned lip gloss (the color for beauty this season), I was ready to take on the day.
How are you gearing up for spring? Remember to kick up your heels and stop to smell the flowers — while looking fab, of course! Tweet @DanaPrigge as always I enjoy hearing from you!
Outfit Details: Flounced Contrast Trim Blouse: metrostyle / Studded Pumps: metrostyle/ Aria Valiant Peach druzy necklace: Cate and Chloe/ Gloss Snob in Mauve: Glamour Dolls Makeup