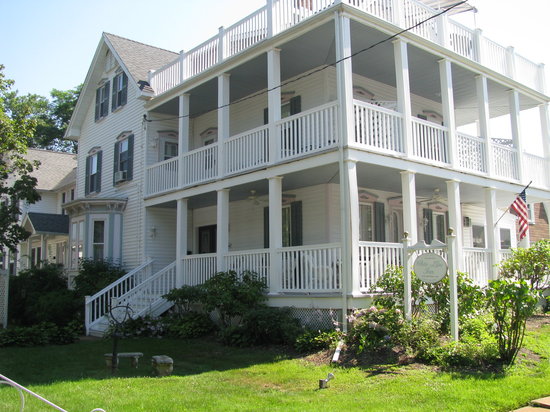 Are you ready for the weekend?!  Taking time out for yourself is so important. Recently, I went on a weekend excursion to the beach. It was great to breathe in the fresh sea air and just kick back and relax. Even when I'm away on a little get-away — a girl needs to still look put together!
The Bed and Breakfast I stayed in with my blogger #bff Jaclyn Brennan was called The White Lilac Inn. With a calming interior, wrap around porches, comfortable bed and lilac door of course — we knew this was going to be a great gals retreat! The homemade breakfast that comes with your room stay is also delicious. If you're traveling to Spring Lake, New Jersey — I recommend this quaint hotel that's located on Wreck Pond. There are also various shopping destinations nearby and a Starbucks just in case!
I was in a relaxed mood, so I wanted to pack some comfy clothes to sleep and lounge around in at the hotel. This soft night shirt and cozy socks were just what I needed. The socks are in one of my favorite colors, a beautiful turquoise and made by Apye — a really fun sock company. They also make socks for kids, and these socks feel so soft, like heaven on your feet!
Take some time out this summer to kick back and relax. Take a moment to quiet your mind and just be. Spending time with great friends also helps! Have any questions about a summer beach trip to New Jersey? Feel free to Tweet @DanaPrigge. I enjoy making new friends and networking! I will let the rest of the stylish pictures tell this fun story.
Outfit Details: Sleep Shirt: Victoria's Secret/ Socks: Apye