Truth be told, I have been trying to clean up my beauty act. I recently tossed (le sigh) many of my nailpolishes because they had many chemicals in them. I switched them out for "healthier" counterparts. So, when Whole Foods reached out to share the news on their new Limited Edition Beauty Bag, I was all ears.
Here are the details on what's inside the bag and how incredible this beauty deal really is. The bag is worth about $90 and retails for $18, now that's impressive! Some of my favorites in the bag are the Pacifica Devocean Lipstick Tenderness (that trendy mauve lip can now be yours) and I love the formula. I'm really surprised how creamy this lipstick is and the color is gorgeous! I have also begun using the DERMA E Hydrating Night Cream and so far, it seems pretty amazing. A night cream that works, I'll take it! I also commend Whole Foods for giving this opportunity to women everywhere to try better kinds of beauty products. Opening your beauty horizons is now easier than ever before. Also, how cute is this makeup bag?!
You can always check out the Sales and Coupons section on the Whole Foods website to get the scoop on the latest promotions.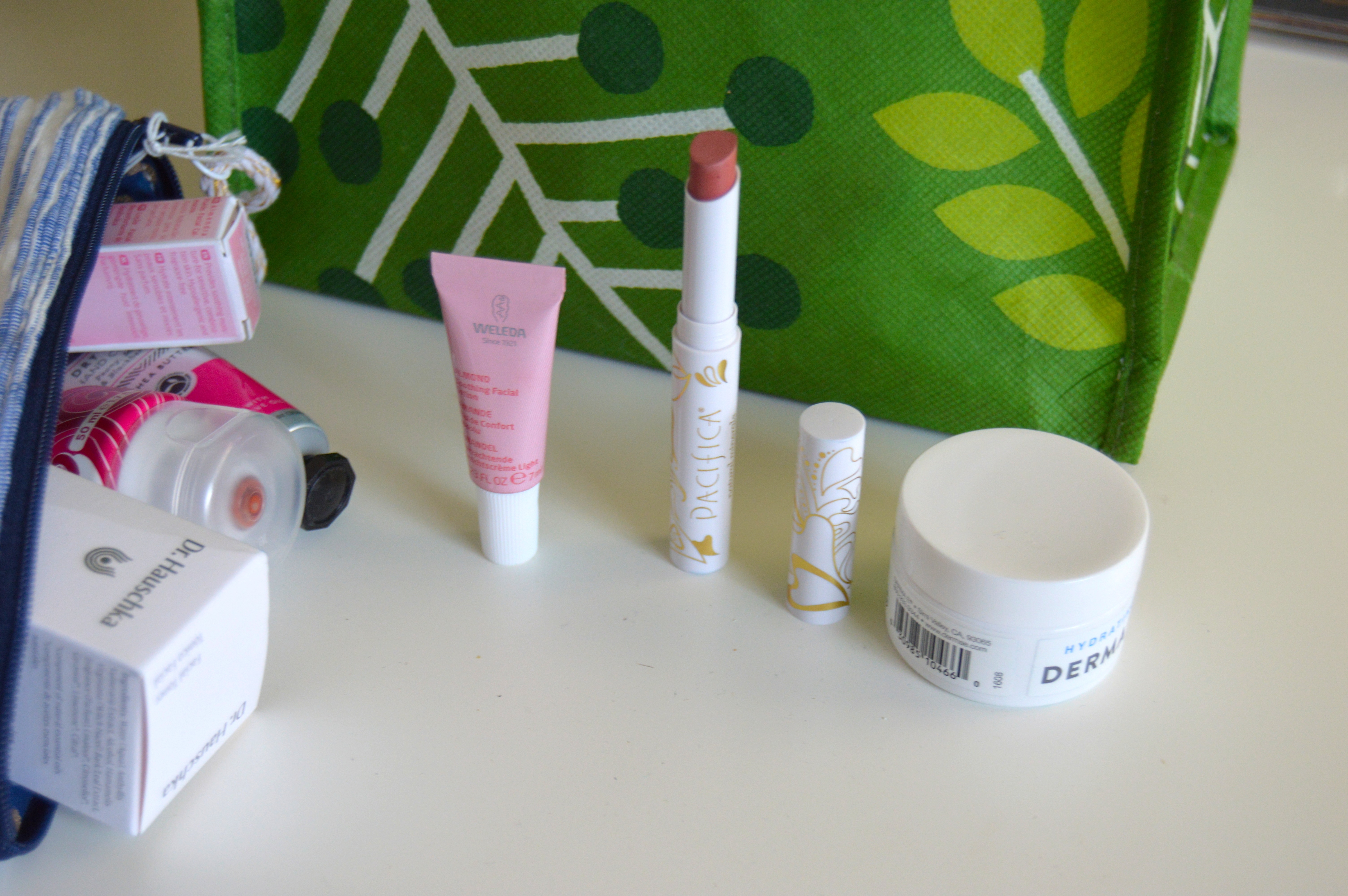 Here are further details via the Whole Foods website;
Beginning on Friday March 24, the Whole Body department will be selling limited edition beauty bags. What's inside? A carefully curated selection of some of our favorite skincare and makeup, all housed in a handcrafted, organic cotton clutch. The $18 bag — which has a retail value of $90 — is only available while supplies last, so we suggest snagging one, stat. And you can share your favorite clean beauty tip or product from our beauty aisle on Instagram or Twitter using #CleanBeautyFaves and #SweepsEntry for a chance to win a bag. (Full contest details.)
Other beauty retailers may throw around the terms "natural" and "clean," but we really mean it. All of the products in the bag — and all of our skincare and makeup — meet our strict standards. Check out our list of 75+ banned ingredients and read on to discover what we're sure will be your new forever favorites. (Bonus: Stock up when you shop — all facial care, cosmetics, cosmetic brushes and nail color is 25% off from March 22-28.) 
Andalou Natural Apricot Probiotic Cleansing Milk | 1.7 oz
The gentle formula removes makeup while fruit stem cells and probiotics work toward brightening the complexion's appearance.
Weleda Soothing Facial Lotion | .23 oz
Restore moisture balance after cleansing with a lightweight, sweet almond oil-based lotion.
Juice Beauty Green Apple Peel Sensitive | .26 oz
Organic green apple juice provides alpha-hydroxy acids to exfoliate and even skin tone and texture while vitamin E and organic aloe provide nourishment and hydration.
Dr. Hauschka Facial Toner | 1 oz
A balancing and hydrating formula to support skin's natural processes and leave skin looking toned and radiant.
Acure Pore Clarifying Red Clay Facial Mask | 1.7 oz
Moroccan red clay and argan stem cells combine to draw out impurities, hydrate and tone for a glowing complexion.
evanhealy Wild Carrot Nourishing Eye Balm | .5 oz
Smooth and protect delicate skin around the eyes with organic cocoa butter and organic sunflower, avocado, rosehip and coconut oils.
Trilogy CoQ10 Booster Oil | .17 oz
A potent and moisturizing blend of plant oils and antioxidants nourish, recharge and revitalize skin.
Whole Foods Market Dry Skin Hand Cream Peony, Mint & Blackberry | 1 oz
Nourishing, super-moisturizing hand cream featuring argan oil and made with 20% shea butter to soothe dry, cracked hands.
Mineral Fusion Volumizing Mascara Jet | .57 oz
Gentle mineral-color formula applies easily and defines each lash without clumps, flakes or smudges.
DERMA E Hydrating Night Cream | .5 oz
Deeply penetrating, rich and ultra-hydrating moisture with antioxidants, vitamins C and E, plus hyaluronic acid to improve skin's appearance.
Pacifica Devocean Lipstick Tenderness | .07 oz
Creamy, hydrating formula for moisturized lips in Tenderness, a semi-matte, highly pigmented rosy taupe.
Piece & Co. Organic Cotton Bag
Piece & Co. empowers skilled artisans to create traditional textiles of exceptional quality and beauty — providing employment for thousands of women and positively impacting communities and children worldwide, piece by piece. This beauty bag was handcrafted by talented artisans in India using organic cotton and traditional techniques of dabu indigo mud-printing, power loom weaving and hand-tasseling.