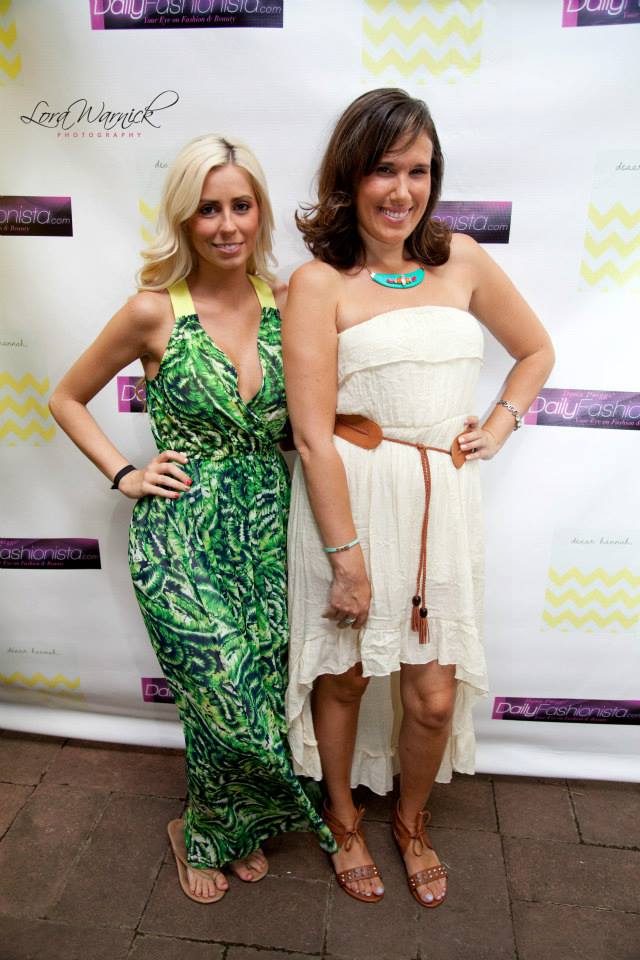 The gorgeous
Hannah Caillier
owner of
Dear Hannah
and
Dana Prigge'
of
DailyFashionista.com
strike a pose!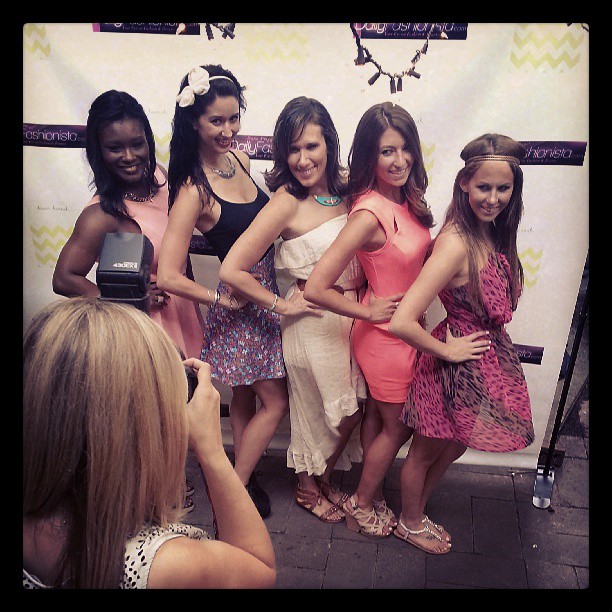 Hoboken, New Jersey is often referred to as the unofficial 6th borough!
DailyFashionista.com
couldn't agree more with that statement. Within Hoboken you'll find wonderful places to dine, a beautiful skyline of Manhattan to gaze at and trendy boutiques featuring the hottest fashions. One such fashion gem is a shop located on the main street of Hoboken called
Dear Hannah
(located at 503 Washington Street).  Hannah the shop owner is from California, so her selection has a New York City meets So Cal vibe that's undeniable. When we decided to celebrate her One Year Anniversary together —
DailyFashionista.com
was really excited. 
Kyrzayda Rodriguez
Style Network TV
personality from
Glam Fairy
also joined in on the occasion as we reached out to Hoboken residents, writers, stylists and media to attend the exciting evening. When
Z-100
radio personality
Bethany Watson
showed up — all of the fashionistas went wild asking to pose for pictures by the
Dear Hannah
&
DailyFashionista
step and repeat. A true fashionista loves being social and we had a blast celebrating with everyone — Hoboken and non-Hoboken residents alike!
DailyFashionista.com
loves welcoming
new
business into the town and supporting the Hoboken community!
The festive mood of the event was created by DJ TavaLuv an incredible mix-master that can also be found spinning at the W in Hoboken. During the night, Barrymore Wines was served. If you're looking for the perfect summer refreshment their new Pinot Grigio is amazing — so light and delicious. The fashionistas that attended also enjoyed sushi by BOA, crispy and delicious rice balls by Littletown NJ (The Manzo Brother's new restaurant), and pastel cupcakes created with glitter by the famous Magnolia Bakery! Joseph Cuccia Catering were on hand as the stylish guests snacked on their signature and delicious homemade focaccia sandwiches! Sparrow Wines in Hoboken also treated the guests to bubbly that we ended the exciting evening with.
To kick-off Hannah's One Year Party she offered shoppers a discount of 15% off and buy one get one half off on accessories. The first 100 shoppers received an uber cute "Dear Hannah" tote filled to the brim with various goodies; Katy Perry's new Kettle Korn Pop Chip, Scunci hair accessories, Nivea lipbalm, and pastel nailpolishes.
There were also exciting drawings during the night – where the fashionistas who attended could win prizes! There were giftcards for dinner from the Melting Pot Hoboken, A gorgeous Nivea giftbasket, Sand by Saya embellished flip-flops, Sunglasses by ClearVision Optical and makeup by Flower Beauty (Drew Barrymore's new beauty line). The grand prize of the night was a total make-over provided by Dear Hannah, Makeup by Caroline Burns and hair by Xquisite.
I'd also like to thank my personal beauty team for getting me in "fashionista" mode for the night, Flower Beauty by Drew Barrymore — their line is gorgeous and affordable. Xquisite Color and Cuts in Hoboken, NJ did an incredible job on my hair! Even in the humid weather I remained frizz proof throughout the evening.
Lora Warnick the official photographer of the evening took flirty pictures capturing the fun and Dennis Comella of Bergen.com was also on hand.  It was great to see so many fashionable faces including Stephen Marinaro The Salon Guy, Melissa Flores of SuperGlamNews, Sara Monica Gaona of Small Chick Big Deals, Carla Ortiz of Haute Cocktail, Jennifer Duare Ignite your Life – Motivational Coach, Diana Antholis of Unleash Your Sexy and Yessy Ramos of A Mommiez Fashion Diary. Thank you to everyone for their support!  See you at another stylish event, soon!
We here at DailyFashionista.com heard that this event was the most crowded boutique event Hoboken, NJ has ever seen and we are happy that we were able to enjoy the night with so many wonderful people!