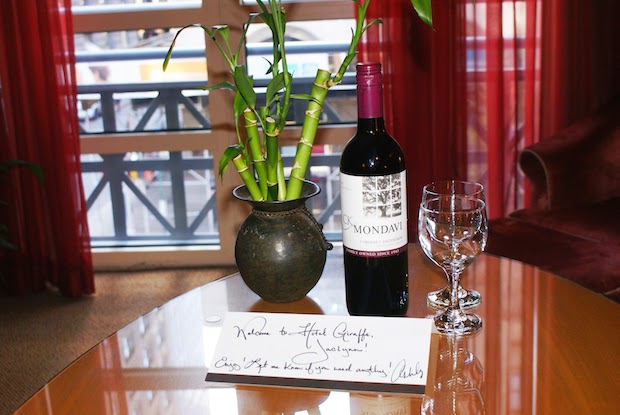 Sometimes you just need a luxurious escape from the monotony of day to day life. Recently, Jaclynn a fellow writer at Blazers and Bellini's and myself  decided that we needed a fabulous girls' night out! We opted to stay at the Hotel Giraffe, located on 26th St. & Park Ave South in Manhattan.
When we arrived we were immediately greeted by the beautiful tulips which line Park Avenue and a really friendly concierge. As we walked into the main lobby of the hotel it was sleek, warm and inviting decorated in neutral tones with a calming vibe. In the city, if you're going to stay somewhere it's nice that the place is open and airy. I also noticed the infused fruit water in the lobby, coffee and various complimentary snacks for guests which is really a nice touch. We checked in and went up to our room.
As the doors opened to our suite, it was just beautiful. They also had the perfect touch with a bottle of wine accompanied by a hand-written note. Since when is New York this cordial?! There was a really great view of Park Avenue, ample closet space, gorgeous bathroom, living room with chaise and an amazing bed. Of course, I couldn't resist taking a photo and having a little laugh (see, below). This hotel definitely is impressive. If you're traveling to New York for work or play, DailyFashionista.com recommends you look into Hotel Giraffe. They also have great Trip Advisor reviews.
We then got ready for a fun night out on the town. A beautiful peach nail polish from Covergirl accented my look along with the latest in Covergirl Colorlicious lipsticks. They have so many nice shades that it's hard to choose! With a spring in our step we were ready to take on the night and enjoy ourselves.
Want to keep up with the latest follow Hotel Giraffe on Instagram. Have any questions about the hotel Tweet @DanaPrigge I enjoy making new fashion friends. Until next time!