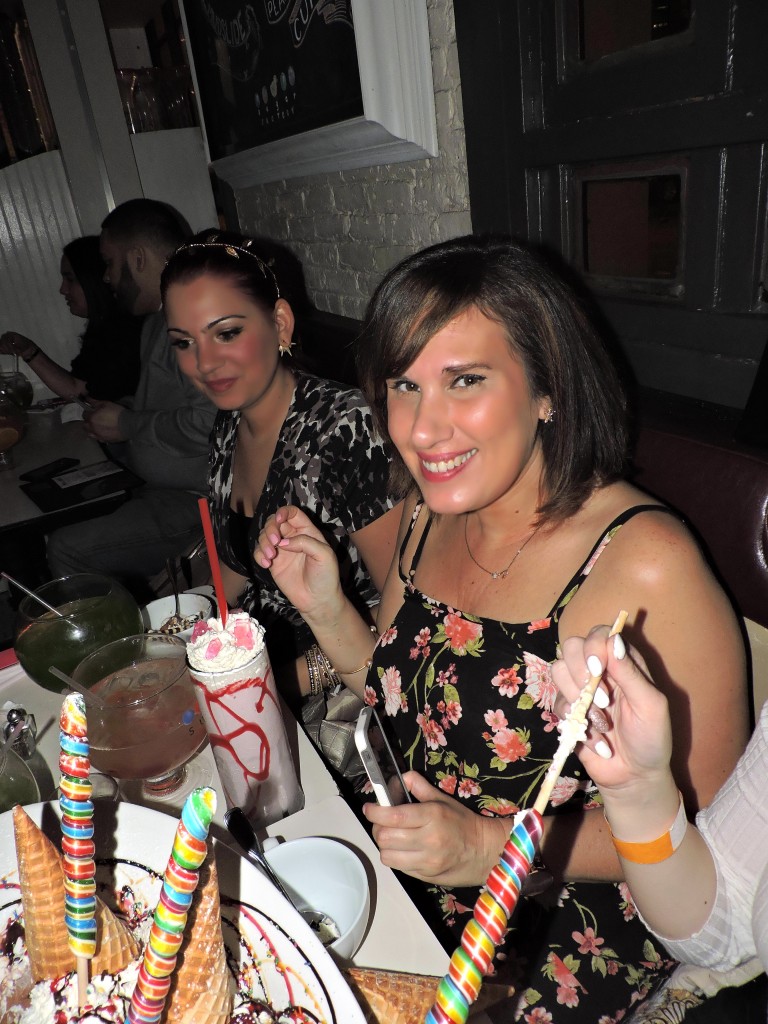 Sometimes you need, yes need a fun girl's night out! Recently, a few of my favorite fashion, beauty and lifestyle bloggers joined forces for a fun night out including dinner and cocktails in Manhattan. We all lead pretty hectic lives with jobs in the fashion industry and running our websites, you-tube channels and style businesses. It was really a positive, fun and enjoyable time to see everyone and catch up.
We decided upon the Sugar Factory American Brasserie located at 46 Gansevoort St. in New York City.  The girls and I wanted to do something where we could just indulge a bit, act like kids and laugh. This is the perfect place for a fun night out with friends, a great date spot and even a wonderful spot for parents with children. Bottom line, everyone enjoys it!
When we arrived the manager and hostess sat us right away. There was a comfortable table waiting for us in the main room along the outer area. The menu has many great selections. Of course, for any girl's night out you should start with some fabulous and fruity cocktails!
After reading all of the positive reviews about the Lollipop Passion Goblet (Their signature goblet is a true taste of the tropics. They blended together a wonderful mix of melon, coconut and pineapple to create a taste sensation no one will be able to resist! For the final touch, they garnish this yummy goblet of goodness with lollipops) I had to try it. The pictures can be found below and this drink is definitely delicious! This restaurant literally makes you happy.
Next up, it was time for appetizers and dinner. Again, the menu has many wonderful selections. We ordered the mini sliders, chicken fingers and fried macaroni and cheese pops. All of the appetizers were really tasty and within a blink of an eye — they were gone!  For dinner, I decided to order their chicken sandwich. It was really tender, seasoned just right and had all of the toppings I enjoy on a good sandwich. There are also various steak and pasta dishes. My friend is on a gluten-free regime and they even brought out a gluten-free dish for her! You can literally order anything you're in the mood for which I love, because the menu is versatile.
No trip to Sugar Factory American Brasserie is complete without dessert. Let's just say we were in for a total surprise. One of the girls had a birthday coming up, so we decided we would celebrate right then and there with a made for table sundae! This sundae though is unlike anything I have ever seen or tasted before!  We had the opportunity to enjoy their World Famous Sugar Factory King Kong Sundae with 24 Scoops of Ice Cream covered with Hot Fudge, Caramel and Strawberry Sauce, Sliced Bananas, Toasted Marshmallows, Reeses's Pieces, Chocolate Chip Cookies, Crushed Waffle Cones, Gummi Bears, White Chocolate Strawberry Shavings and Toasted Walnuts with Whipped Cream, Giant Lollipops and Sparklers on top! This dessert was beyond amazing. You'll see my blogger friend Melissa below in awe over this dessert — her reaction can be found below.
I also had to order my favorite shake The Barbie Shake (vanilla soft serve ice cream and strawberry gelato blended with marshmallow fluff and topped with whipped cream and pink rock candy crumbles). One word describes this shake: Wow!
DailyFashionista would also like to thank Sigma Beauty for the pretty makeup they sent for our fun night out! The contoured cheek look is all the rage and getting the look without hassle is what I'm after. They sent the most gorgeous blush called called Cheeky, the E55 Tapered Face brush, a flirty lipgloss and an eyeshadow brush. Thank you Sigma, we all appreciate the beautiful gifts!
I also wanted to thank my colleagues for without you this night wouldn't have been so fabulous; Jaclynn Brennan EIC of Blazers and Bellinis, Melissa Flores EIC and Youtube sensation of Super Glam News, Patty Osorio Founder of Patty's Kloset, Melissa Pereira Creator of Sweet Styles by Melissa, and Kyrzayda Rodriguez Founder of Kyrzayda.com.
Be sure to stop by the Sugar Factory American Brasserie to preview their amazing menu. You can also follow along for more food and fun over at their Instagram. Thinking of planning a trip to Sugar Factory and have any questions?! Tweet @DanaPrigge — I would love to hear from you! Follow along the evening's festivities below with the #SugarFactorySweeties!